Investing.com - Gold prices edged lower on Monday as a U.S. government shutdown loomed large in afternoon trading, which repelled investors away from risk-on assets.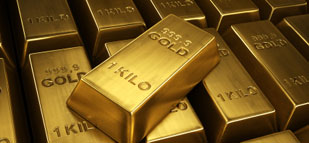 The dollar, which normally moves inversely with gold, headed lower earlier, though investors continued to steer clear of the yellow metal and favored the dollar somewhat on sentiments that when fiscal woes subside, the Federal Reserve will be closer to dismantling monetary stimulus programs.
On the Comex division of the New York Mercantile Exchange, gold futures for December delivery traded at USD1,330.90 during U.S. afternoon hours, down 0.62%.
Gold prices hit a session low of USD1,323.20 a troy ounce and high of USD1,350.30 a troy ounce.
Gold futures were likely to find support at USD1,306.20 a troy ounce, Tuesday's low, and resistance at USD1,375.10, the high from Sept. 19.
The December contract settled up 1.14% at USD1,339.20 a troy ounce on Friday.
The U.S. Congress must approve a spending package by the end of the day to avoid a government shutdown, and waning faith for a last-minute deal steered investors away the dollar as well as from gold and into other safe-haven assets such as the yen earlier.
Congressional Republicans and Democrats continued to spar over President Barack Obama's healthcare law, a bargaining chip to fund a spending package to keep the government running.
Republicans oppose the president's healthcare reform and want it delayed in exchange for approving a spending deal, something many Democrats oppose.
Earlier Monday, President Barack Obama said he was not yet resigned to a government shutdown.
Elsewhere, the dollar took back some of its earlier losses on better-than-expected economic indicators, which boosted expectations for the Federal Reserve to begin tapering stimulus programs once fiscal jitters subside.
Fed asset purchases weaken the dollar by driving down interest rates to spur recovery, sending gold rising in the process.
The Federal Reserve Bank of Dallas reported earlier that its general business activity index increased to 12.8 in September from 5.0 in August, beating market calls for the index to remain unchanged.
Separately, industry data revealed that Chicago purchasing managers' index hit 55.7 in September from 53.0 in August, beating analysts' calls for a 54.0 reading
The data continued rekindled market expectations for the Federal Reserve to begin tapering its USD85 billion monthly bond-buying program this year, possibly later this month.
Elsewhere on the Comex, silver for December delivery was down 0.29% at USD21.767 a troy ounce, while copper for December delivery was down 0.26% and trading at USD3.321 a pound.