Investing.com - Gold prices edged lower on Tuesday after investors locked in gains from Monday's rally and sold for profits.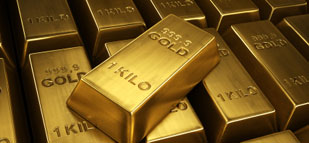 Gold prices shot up on Monday after a weaker-than-expected report on U.S. home sales fueled market talk that the Federal Reserve will keep stimulus measures in place for now.
Stimulus programs such as the Fed's monthly USD85 billion bond-buying program weaken the dollar to spur recovery, which makes gold an attractive hedge.
On the Comex division of the New York Mercantile Exchange, gold futures for August delivery were down 0.04% at USD1,335.45 a troy ounce in U.S. trading on Tuesday, up from a session low of USD1,326.15 and down from a high of USD1,337.65 a troy ounce.
Gold futures were likely to find support at USD1,269.45 a troy ounce, Wednesday's low, and resistance at USD1,338.45, Monday's.
Gold prices soared on Monday after the National Association of Realtors reported that existing home sales fell 1.2% to 5.08 million units in June, missing market calls for sales to rise 0.6% to 5.25 million units in June.
Sales for May were revised down to 5.14 million from a previously reported 5.18 million.
The numbers prompted investors to conclude that monetary authorities will keep stimulus programs in place for now, though gold's rally would be short-lived as uncertainty kept some investors camped out in the dollar.
Federal Reserve officials have said they will pay close attention to economic data when deciding when to taper and eventually close stimulus programs, though they have added they won't follow specific timetables.
Elsewhere on the Comex, silver for September delivery was down 1.27% at USD20.248 a troy ounce, while copper for September delivery was up 0.37% and trading at USD3.197 a pound.