Investing.com - Gold prices erased losses sustained earlier upon news that U.S. hiring far outpaced expectations in February, which sparked demand for the U.S. dollar.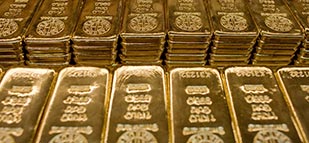 Gold and the dollar normally trades inversely with one another.
On the Comex division of the New York Mercantile Exchange, gold futures for April delivery were up 0.07% at USD1,576.20 a troy ounce in U.S. trading on Friday, up from a session low of USD1,560.60 and down from a high of USD1,582.50 a troy ounce.
Gold futures were likely to test support USD1,554.80 a troy ounce, the low from Feb. 21, and resistance at USD1,1584.80, Thursday's high.
Gold prices plunged after the Bureau of Labor Statistics reported earlier that U.S. economy added a net 236,000 nonfarm payrolls in February, way more than an expected 160,000 increase and up above 119,000 reported in January.
The U.S. private sector added 246,000 jobs, beating expectations for a 167,000 increase, following January's 140,000 rise.
The headline unemployment rate fell to 7.7% in February from 7.9% in January, beating analysts' calls for the rate to remain unchanged.
The data came after the Department of Labor said on Thursday that the number of individuals filing for initial jobless benefits fell by 7,000 to 340,000 last week, defying expectations for an increase of 8,000 to 355,000.
The numbers sparked heavy demand for dollars on sentiment the Federal Reserve will soon consider winding down stimulus programs designed to spur recovery by flooding the economy with liquidity in a way that encourages investing and hiring.
Stimulus tools, including the Fed's monthly USD85 billion monthly bond-buying program known as quantitative easing, weaken the dollar as side effects, and Friday's jobs report stoked sentiments that such programs may wrap up sooner rather than later.
Gold plunged upon release of the data while the dollar surged, though the precious metal quickly rebounded back into positive territory after investors began to view the metal as oversold.
Elsewhere on the Comex, silver for May delivery was up 0.53% and trading at USD28.962 a troy ounce, while copper for May delivery was down 0.31% and trading at USD3.510 a pound.