Investing.com - Gold prices fell on Friday amid hopes Greece will come closer to working its way out of a political stalemate, while a surprise USD2 billion trading loss at JPMorgan sparked demand for the yellow metal's traditional hedge, the dollar.
On the Comex division of the New York Mercantile Exchange, gold futures for June delivery traded down 0.69% at USD1,584.45 a troy ounce.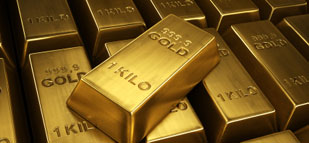 Gold traded at a low of USD1,573.75 a troy ounce and hit a high of USD1,595.25 a troy ounce during the session.
The precious metal sought to test support at USD1,572.65 a troy ounce, the low of Jan. 3, and resistance at USD1,639.05, the high on May 8.
The dollar became the asset of choice on Friday thanks in part to strong U.S. data.
The Thomson Reuters/University of Michigan's preliminary May consumer sentiment index jumped to a 4-year high of 77.8 from 76.4 in April, outpacing expectations for 76.2.
Healthy U.S. indicators often drown out market murmurs that the Federal Reserve will stimulate the economy and weaken the dollar in the process, which often sends gold climbing.
Investors ditched gold also on news that U.S. financial titan JPMorgan Chase reported a USD2 billion trading loss, which fueled some demand for the greenback among investors seeking safe harbor.
While a political stalemate continues in Greece, reports emerged that most major political parties favor sticking with the euro, which helped bolster many European share prices, which sent gold falling.
Greece has agreed to undergo harsh and politically popular austerity measures in exchange for bailout money from the European Commission, the European Central Bank and the International Monetary Fund.
Recent parliamentary elections left no one party able to patch together a coalition government, although politicians still have some time to come to an agreement by next week to avoid a new round of elections.
Greek conservative leader Antonis Samaras said consensus is building that major political parties want to stick with the euro despite recent calls from leftist Alexis Tsipras, who declared the bailout deal null and void and called for a moratorium on debt payments.
Tsipras later tempered his comments, pointing out that abandoning the euro would be bad for Greece although he stood by comments that austerity measures weren't helping the country.
Elsewhere on the Comex, silver for July delivery was down 0.92% and trading at USD28.910 a troy ounce, while copper for July delivery was down 1.41% and trading at USD3.638 a pound.