Investing.com - Gold futures were higher in the early part of Tuesday's Asian session after notching another impressive performance during Monday's U.S. trade even as the S&P 500 raced to another record high.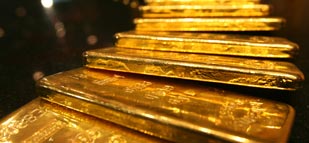 On the Comex division of the New York Mercantile Exchange, gold futures for June delivery rose 0.45% to USD1,473.95 per troy ounce in Asian trading Tuesday after settling up 0.97% at USD1,467.65 a troy ounce in U.S. trading on Monday,
Gold futures were likely to test support USD1,461.75 a troy ounce, the earlier low, and resistance at USD1,484.75, Friday's high.
U.S. economic data out Monday was decent enough to buoy riskier assets and breath some more life into rallying bullion.
In U.S. economic news, the Commerce Department said personal incomes and spending each rose 0.2% in March. Economists expected the March reading of personal spending would be unchanged, but they expected a 0.4% increase in personal income.
The National Association of Realtors said its pending home sales index rose 1.5% to 105.7 last month, good for the highest reading in nearly three years. Signed contracts jumped 7% on a year-over-year basis.
EUR/USD
rose, which also bolstered gold prices. In Italy earlier, borrowing costs fell to levels not seen since October of 2010 at an auction of five and 10-year bonds, mainly as confidence in the country grew after a new government was sworn in over the weekend and ended two months of political deadlock.
Elsewhere, research released by HSBC indicated lower gold prices are not likely to play a roll in paring India's current account deficit. India is the world's largest gold consumer.
Meanwhile, Comex silver for July delivery surged 1.35% to USD24.493 per ounce while copper for July delivery added 0.17% to USD3.226 per ounce.