Investing.com - The dollar rose against most of its peers on Wednesday as investors sought safety amid concerns brinkmanship may mar the upcoming debt-ceiling debates in the U.S.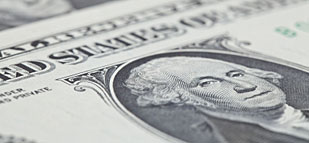 Calls for higher inflation targets in Japan sent the greenback rising as did softer-than-expected German output data.
In U.S. trading on Wednesday,
EUR/USD
was down 0.20% at 1.3055.
German industrial production rose 0.2% in November, according to official data, missing market expectations for a 1.0% increase.
German industrial production fell 2.9% on year in November, in line with expectations.
On Tuesday, the German government reported that factory orders fell 1.8% in November, outpacing market expectations for a 1.4% decline thanks in part to slumping overseas demand for the country's goods and services.
Elsewhere, final data showed that the eurozone economy contracted 0.1% in the third quarter, in line with preliminary estimates as well as market expectations.
The greenback saw added safe-haven demand as markets began to brace for fourth-quarter earnings, which have already begun hitting the wire, and for congressional debates over terms to raise the U.S. government's debt ceiling.
The U.S. government will hit its USD16.4 trillion borrowing limit likely by the end of February, and Congress must lift the spending ceiling in order to prevent defaults on government obligations.
When the government last hit its debt ceiling in 2011, lawmakers waited until the final hour to lift it, roiling markets in the process and fueling strong safe-haven demand for the greenback shortly afterwards.
Fears of a repeat performance in February sparked cautionary dollar demand on Wednesday.
The greenback, meanwhile, was up against the pound, with
GBP/USD
trading down 0.22% at 1.6020.
The dollar strengthened against the yen after Japanese Prime Minister Shinzo Abe asked the Bank of Japan to double an inflation target to 2%, with
USD/JPY
up 0.92% at 87.85.
The dollar, meanwhile, was up against the Swiss franc, with
USD/CHF
trading up 0.16% at 0.9257.
The dollar was mixed against its cousins in Canada, Australia and New Zealand, with
USD/CAD
up 0.10% at 0.9877,
AUD/USD
up 0.06% at 1.0509 and
NZD/USD
trading up 0.25% at 0.8387.
The dollar index, which tracks the performance of the greenback versus a basket of six other major currencies, was up 0.34% at 80.68.
On Thursday, the U.S. is to publish the weekly government report on initial jobless claims.