Investing.com - Crude oil futures rallied 1% in thin holiday trade on Friday, as appetite for riskier assets improved amid new hopes for progress on a deal for Greece and following the release of encouraging data out of Germany.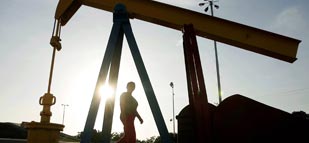 On the New York Mercantile Exchange, light sweet crude futures for delivery in January rose 1% Friday to settle at USD88.28 a barrel by close of trade. Earlier in the day, prices touched a session high of USD88.52 a barrel, the strongest level since November 20.
On the week, New York-traded oil futures gained 1.3%, the third consecutive weekly advance.
Trade volumes were light, as U.S. markets closed early for the Thanksgiving weekend.
Market sentiment improved after Greece's Finance Minister said the International Monetary Fund had relaxed its debt-cutting target for the country, suggesting lenders were closer to a deal for a vital aid tranche to be paid.
However, other sources involved in the talks cautioned that the funding gap was far bigger than Greece has suggested.
Talks between finance ministers and the International Monetary Fund ended without a deal on Tuesday, amid disagreements on how best to reduce the country's debt to sustainable levels.
Investor confidence also strengthened after the German Institute for Economic Research earlier said that its index of business confidence improved to 101.4 in November from a reading of 100.0 the previous month, beating expectations for a decline to 99.5.
The news came a day after a report showed manufacturing activity in China expanded for the first time in more than a year last month. China's preliminary HSBC manufacturing PMI rose to 50.4 in November, up from a final reading of 49.5 in October.
China is the world's second largest oil consumer after the U.S. and has been the engine of strengthening demand.
Weakness in the U.S. dollar also contributed to gains. The euro climbed to a three-week high against the greenback, while the dollar index declined 0.76% Friday to settle the week at 80.22, the lowest level since November 2.
Dollar-denominated oil futures contracts tend to rise when the dollar falls, as this makes oil cheaper for buyers in other currencies.
Meanwhile, oil traders continued to monitor geopolitical tension between Israel and Hamas. The two parties agreed to a ceasefire on November 21 to halt an eight-day conflict that killed 162 Palestinians and six Israelis.
Countries in the Middle East and North Africa were responsible for 36% of global oil production and held 52% of proved reserves in 2011.
In the coming week, market participants will be focusing on Monday's meeting of the euro group of finance ministers to discuss unlocking Greece's next aid installment.
Traders will also monitor developments surrounding the looming "fiscal cliff" in the U.S., approximately USD600 billion in automatic tax hikes and spending cuts due to come into effect on January 1.
There are fears the U.S. economy will fall back into a recession, unless a divided Congress and the White House can work out a compromise in the seven weeks left before the January 1 deadline.
Elsewhere, on the ICE Futures Exchange in London, Brent oil futures for January delivery rose 0.7% Friday to settle at USD111.34 a barrel.
The London-traded Brent contract added 1.95% over the week, with the spread between the Brent and the crude contracts standing at USD23.06 a barrel.