Investing.com - Crude oil prices settled at their lowest level since the start of the year on Friday, as concerns over a slowdown in global oil demand mounted following disappointing Chinese economic data and amid ongoing worries over political uncertainty in Greece.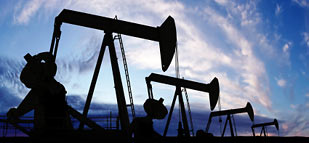 On the New York Mercantile Exchange, light sweet crude futures for delivery in June settled at USD95.65 a barrel by close of trade on Friday, dropping 2.45% over the week.
Earlier Friday, prices fell to as low as USD95.60 a barrel, the lowest since May 9, when prices touched a five-month low of USD95.17 a barrel.
Oil prices lost ground after Chinese economic data for April printed weaker-than-expected, adding to evidence of an accelerating slowdown in the world's second largest economy.
China's industrial production grew the least since 2009 in April, increasing by 9.3%. China's retail sales in April gained 14.1% from a year earlier, compared with estimates of 15.1% and March's 15.2% increase.
The data came a day after a report showed that the nation's exports and imports both rose less than estimated in April.
A deeper slowdown in China would impair a global expansion that is already faltering because of Europe's austerity measures. China is the world's second largest oil consumer after the U.S. and has been the engine of strengthening demand.
Meanwhile, investors continued to monitor political developments in Greece, as the debt-laden country struggles to form a coalition government following last weekend's elections, fanning fears over a potential default and eventual exit from the euro zone.
On Friday, Alexis Tsipras the head of Greece's largest anti-bailout party Syriza rejected a coalition with Socialists and Conservatives, fuelling concerns over the country's ability to abide by the terms of its EUR130 billion bailout agreement.
Rating agency Fitch warned Friday that it would place the ratings of all euro zone members on review pending possible downgrades, if Greece was to exit the euro zone as a result of its current crisis.
Speculation over the health of Spain's troubled banking system and the government's ability to cut one of the largest deficits in the euro also weighed on market sentiment.
There are worries that the region's sovereign debt crisis could trigger a broader economic slowdown that would curb demand for oil. The euro zone accounted for nearly 12% of global oil consumption in 2010, according to data from British Petroleum.
Further adding to the gloomy trade environment, Wall Street lender JP Morgan Chase revealed late Thursday that a USD2 billion dollar loss will eat into its second-quarter results.
The losses stemmed from trades at the bank's chief investment office, which took large positions for the bank in credit-default swaps.
The heightened sense of risk aversion prompted investors to shun riskier assets, such as stocks and industrial commodities, and flock to the relative safety of the U.S. dollar.
The dollar index, which tracks the performance of the greenback versus a basket of six other major currencies, ended the week at 80.42, the highest since March 16.
A stronger dollar makes dollar-denominated oil futures contracts more expensive for importers holding other currencies such as yen or euro.
Meanwhile, a larger-than-expected build in U.S. oil supplies last week forced traders to refocus on the supply and demand picture.
The U.S. Energy Department said in its weekly report that crude oil inventories rose by 3.7 million barrels last week to a total of 379.5 million barrels, the highest level since August 1990, underscoring fears over a slowdown in oil demand from the U.S.
The U.S. is the world's biggest oil-consuming country, responsible for almost 22% of global oil demand.
Nymex crude prices have fallen nearly 14% since hitting a March 1 intraday peak of USD110.53 a barrel, as concerns lingered over a widening economic slowdown that may cut demand for energy and as tensions have eased between Iran and Western nations over the country's nuclear program. Prices are down almost 9% since the start of May.
Elsewhere, on the ICE Futures Exchange, Brent oil futures for June delivery settled at USD111.58 a barrel by close of trade on Friday. Prices fell to as low as USD110.33 on May 7, the lowest since January 30.
The Brent contract lost 1.67% over the week. The spread between the Brent and the crude contracts stood at USD15.93 a barrel by close of trade Friday.
Brent crude, the European benchmark, is more than 13% off its intraday high of USD128.38 hit on March 1.
A potential loss of Iranian oil supplies has helped underpin strong gains in oil prices during late last year and the first quarter of this year.
But revived talks between Iran and major powers over Tehran's nuclear ambitions, along with rising Saudi Arabian and Libyan output and signs of slower U.S. economic and employment growth, helped pull oil prices back from first-quarter highs.
In the week ahead, investors will be watching developments in Greece as well as the first talks between the new French President Francois Hollande and German Chancellor Angela Merkel, amid fears that Hollande's focus on growth rather than austerity measures as a means to tackle the euro zone crisis could spark tensions with Germany.
In addition, the U.S. is to produce government data on retail sales and inflation, while the Federal Reserve is to publish the minutes of this month's policy setting meeting.
Oil traders will be closely watching U.S. data in the second quarter for clues as to the likelihood of a fresh round of monetary easing by the Fed, which could potentially hurt the dollar and support oil.