Investing.com - Crude oil futures edged lower on Friday, as a cease-fire between Israel and Hamas eased worries that tensions in the Middle East may disrupt the region's crude supplies.
On the New York Mercantile Exchange, light sweet crude futures for delivery in December traded at USD87.27 a barrel during European morning trade, slipping 0.15%.
Trade volumes were expected to remain light on Friday, with NYMEX floor trading scheduled to be abbreviated for Thanksgiving weekend.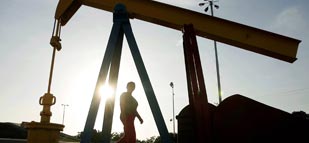 The U.S. is the world's biggest oil-consuming country, responsible for almost 22% of global oil demand.
Hamas and Israel are seeking to solidify the cease-fire which took effect at 9 p.m. local time November 21 and was announced by Egyptian Foreign Minister Mohamed Amr and U.S. Secretary of State Hillary Clinton.
The conflict threatens further instability in the Middle East and North Africa after a wave of uprisings that started last year, including one that almost entirely halted crude exports from Libya.
Oil prices rose on Thursday after data showed that Germany's manufacturing purchasing managers' index rose to 46.8 in November, up from 46.0 in October and better than forecasts for a reading of 45.9.
Meanwhile, the euro zone's manufacturing PMI rose to 46.2 this month from 45.4 in October, above expectations for a reading of 45.6, while French factory data also improved more-than-expected.
Meanwhile, German Chancellor Angela Merkel said an agreement to unlock a delayed bailout installment for Greece was still possible when euro zone finance ministers resume talks on Monday.
Talks between finance ministers and the International Monetary Fund ended without a deal on Tuesday, amid disagreements on how best to reduce the country's debt to sustainable levels.
Oil prices were also supported after a report showed that China's preliminary HSBC manufacturing PMI rose to 50.4 in November, up from a final reading of 49.5 in October.
It was the first expansion in manufacturing activity since September 2011, easing concerns over the growth outlook for the world's second largest economy.
China is the world's second largest oil consumer after the U.S. and has been the engine of strengthening demand.
Elsewhere, on the ICE Futures Exchange, Brent oil futures for December delivery fell 0.10% to trade at USD110.43 a barrel, with the spread between the Brent and crude contracts standing at USD23.16 a barrel.