Investing.com - Crude oil futures edged lower in rangebound trade on Monday, after data showed that U.S. durable goods orders plunged significantly more-than-expected in July, fuelling concerns over the strength of the economic recovery.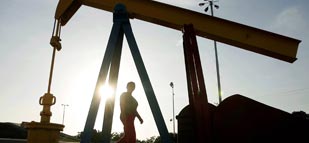 Losses were limited as traders focused on the deepening civil war in Syria and the prospect of oil-supply disruptions.
On the New York Mercantile Exchange, light sweet crude futures for delivery in October traded at USD106.12 a barrel during U.S. morning trade, down 0.3%. The October contract settled up 1.3% at USD106.42 a barrel on Friday.
Nymex oil futures traded in a range between USD105.92 a barrel, the session low and a daily high of USD107.31 a barrel.
Oil futures were likely to find support at USD103.56 a barrel, the low from August 22 and resistance at USD107.53 a barrel, the high from August 19.
The Commerce Department said durable goods orders dropped 7.3% in July, worse than expectations for a 4% decline. It was the largest decline since August 2012.
Core durable goods orders, excluding volatile transportation items, fell 0.6% last month, defying expectations for a 0.5% increase.
Orders for core capital goods, a key barometer of private-sector business investment, fell 3.3% in July, confounding expectations for a 0.5% gain.
Shipments of core capital goods, a category used to calculate quarterly economic growth, declined 1.5% last month, compared to expectations for a 0.3% increase.
The data came after a report on Friday showed that U.S. new home sales fell by a larger-than-forecast 13.4% in July, the largest decline in more than three years.
The weak data sparked concerns over the strength of the U.S. economy and fuelled speculation over whether the Fed will start to scale back its USD85 billion-a-month asset purchase program in September.
The Fed's stimulus program is viewed by many investors as a key driver in boosting the price of commodities as it tends to depress the value of the dollar.
Meanwhile, growing speculation that the U.S. and other Western nations will strike in Syria continued to prop up oil prices in wake of allegations Bashar al-Assad's government forces used chemical weaponry against civilians.
While Syria is not a major oil producer, investors fear that the two-year-old civil war could spill over to affect oil supplies in nearby countries.
Market players are also concerned about the involvement of Iran, OPEC's sixth-biggest oil producer.
Elsewhere, on the ICE Futures Exchange, Brent oil futures for October delivery dipped 0.25% to trade at USD110.76 a barrel, with the spread between the Brent and crude contracts standing at USD4.64 a barrel.
Brent prices hit USD111.61 a barrel earlier in the session, the highest level since April 2.
London-traded Brent prices have been well-supported in recent sessions amid fears over a disruption to supplies from the Middle East and North Africa.
Countries in the Middle East and North Africa were responsible for 36% of global oil production and held 52% of proved reserves in 2012.