Investing.com - Crude oil futures fell in Asian trading on Monday as a cease-fire between Israeli military forces and Hamas militants continued to hold, with Israel relaxing border restrictions on Palestinians entering the Gaza Strip.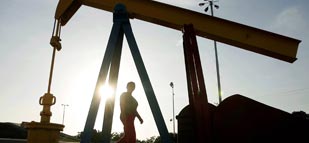 On the New York Mercantile Exchange, light, sweet crude futures for delivery in January traded at USD89.97 a barrel on Monday, down 0.35%, off from a session high of USD88.25 and up from an earlier session low of USD87.95.
Fears that tensions between Israel and Hamas will morph into a regional military campaign involving Iran began to wane on Monday.
A war could disrupt supply and send prices soaring, especially if Iran made good on past threats to close down the Strait of Hormuz, a narrow waterway connecting oil-rich Persian Gulf countries with the rest of the world.
However, markets kept a nervous eye on Egypt, where President Mohammed Morsi gave himself sweeping new powers, which drew supporters and opponents clashing in the streets across the country.
Morsi is due to meet with judicial leaders to find a way out of the crisis later Monday, which calmed oil markets and allowed for profit taking.
Many energy market participants remained on the sidelines to wait for an outcome of a meeting among E.U. and I.M.F. participants to discuss Greek aid.
A decision to free up bailout money for Athens could boost energy prices by stoking sentiments that policymakers have avoided a messy Greek default, which would have bruised the European economy and cut into demand for fuels and energy.
On the ICE Futures Exchange, Brent oil futures for January delivery were down 0.11% and trading at USD111.22 a barrel, up USD21.25 from its U.S. counterpart.