This sample below shows what a standard "cup with handle" pattern looks like. The stock or ETF forms a wide and deep base pattern, then begins to rise up to form the right side of the cup. Some cup and handles are narrower, sometimes called "saucer and handle" patterns, and others are deep. Often, technicians will look to buy the pullback of the right side of the cup, called the "Handle" and then benefit from the reversal to the upside.
See this standard sample below from Investopedia: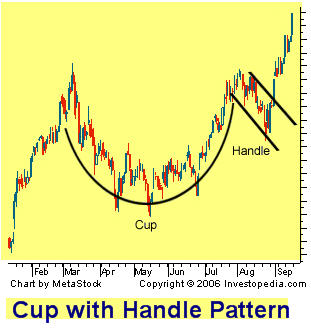 cup-n-handle-chart-sample
If we apply this to the Natural Gas ETF (UGAZ) — we can see a potential right side handle pullback forming now. You can also note the stochastics indicator in the bottom right corner being oversold and possibly turning up soon, giving a buy signal shortly. We anticipate a possible drop to the $30-$31 range on this ETF from 32.80′s and that would be an intelligent entry for risk adjusted swing trade returns.