EUR/USD
The euro may extend gains that have pushed it to the strongest since April, The 17-nation currency is poised to advance toward 107.74 yen, the 78.6 percent retracement of its slide from March until July, before that takes place, the euro is initially poised to weaken to 104.62 yen, which represents the highs set last month, they wrote. The euro gained 0.6 percent to 106.50 yen at 1:53 p.m. in London after rising to 106.58 yen, the strongest level since April 30. The last time it traded at 107.74 yen was April 23. The euro traded near its highest level in three weeks on prospects finance ministers will agree on an aid package for Greece next week, even after a report showed Europe's common currency area slipped back into recession.
EUR/USD
" title="
EUR/USD
" width="624" height="468" />
GBP/USD
The pound dropped to a four-week low against the euro after a gauge of U.K. manufacturing stayed near the lowest in 10 months, adding to concern the economy is struggling to recover. Sterling dropped versus all except two of its 16 major counterparts after Bank of England Governor Mervyn King told a parliamentary commission that the uncertainty of regulatory fines levied on British lenders was weighing on their ability to raise finance.
U.K. government bonds were little changed as the Debt Management Office sold 3.25 billion pounds ($5.18 billion) of index-linked bonds though banks. The U.K. currency depreciated 0.5 percent to 80.82 pence per euro after sliding to 80.86 pence, the weakest level since October 25. The U.K. currency dropped 0.1 percent to $1.5937.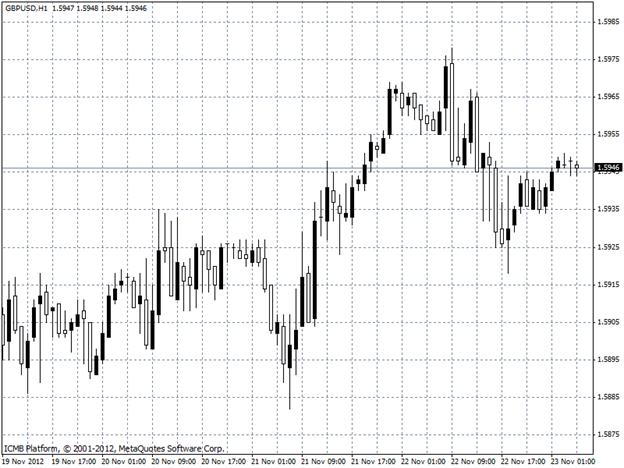 GBP/USD
" title="
GBP/USD
" width="624" height="468" />
USD/JPY
The yen climbed versus most of its 16 major peers as technical indicators signaled its recent drop may have been too rapid and as a contraction in euro-area manufacturing and services damped global growth prospects. Japan's currency pared a weekly decline that comes as opposition leader Shinzo Abe, who is favored to become the country's next prime minister after elections on December 16, increased pressure on the Bank of Japan (8301) to add to stimulus measures that tend to weaken the yen. The yen rose 0.3 percent to 82.24 per dollar, after touching 82.84 yesterday, the weakest since April 4. It added 0.3 percent to 105.99 per euro.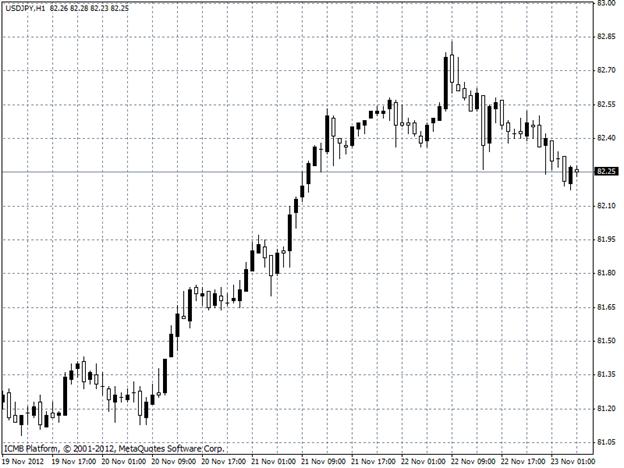 USD/JPY
" title="
USD/JPY
" width="624" height="468" />
USD/CAD
Canada's dollar declined against its U.S. counterpart as retail sales trailed economists' projections, eroding the currency's appeal. The loonie, so-called for the image of the aquatic bird on the dollar coin, declined against the majority of its most- traded peers. It advanced earlier after Chinese factory output rose for the first time in 13 months, adding to signs growth in that economy is rebounding.
Retail sales increased 0.1 percent to CAD 39.1 billion ($39.3 billion), the third consecutive monthly gain, as increases at new car dealers were offset by declines at department stores and gasoline stations, The Canadian dollar declined 0.1 percent against the greenback to 99.74 cents per U.S. dollar.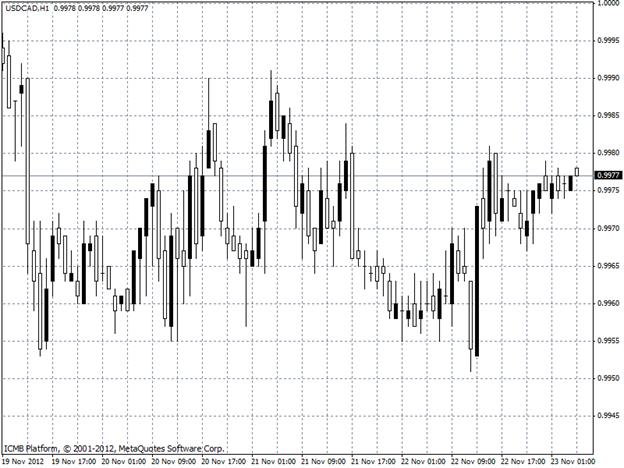 USD/CAD
" title="
USD/CAD
" width="624" height="468" />