Nvidia stock has skyrocketed, and is now highly overvalued.
Buying it now would be very risky. You should consider other chipmakers instead.
According to InvestingPro, if you're looking for an alternative chipmaker stock, Qualcomm fits the bill nicely.
By David Wagner
The semiconductor industry has garnered significant attention due to the surge in demand for artificial intelligence (AI) technologies. Last week, NVIDIA (NASDAQ:NVDA) unveiled its first-quarter earnings, further fueling the already heightened excitement around the sector.
Exceeding market expectations, the company's impressive profits and sales triggered a remarkable stock rally of nearly 25%.
Source: InvestingPro
Earnings per share (EPS) came in at $1.09, 18.8% higher than the $0.92 expected, while revenues reached $7.1 billion, an upside surprise of 10.3% versus consensus. In addition, the Santa Clara, California-based chipmaker issued optimistic forecasts, thanks in large part to a positive outlook for its AI operations.
Artificial intelligence relies on the use of super-powered computing components, a field in which Nvidia is currently the global leader. The problem here, from an investor's point of view, is that it's perhaps a bit too obvious that Nvidia will be one of the biggest beneficiaries of AI's widespread use.
Investors have been flocking to the stock since the start of 2023, and shares have clocked a phenomenal 160% gain year to date. That raises concerns Nvidia's potential has been exhausted, at least for the time being. And given its risky valuation, they now may be wondering which chip stock to consider instead.
To answer these questions, we turned to the InvestingPro tool to compare the leading U.S.-listed chip stocks listed, collecting 7 of the most important ones into an advanced Watchlist.
In addition to Nvidia, we have included the company's main competition – Advanced Micro Devices (NASDAQ:AMD), Intel (NASDAQ:INTC), and Taiwan Semiconductor Manufacturing (NYSE:TSM) – as well as smaller companies such as Micron (NASDAQ:MU), NXP Semiconductors NV (NASDAQ:NXPI) and Qualcomm (NASDAQ:QCOM).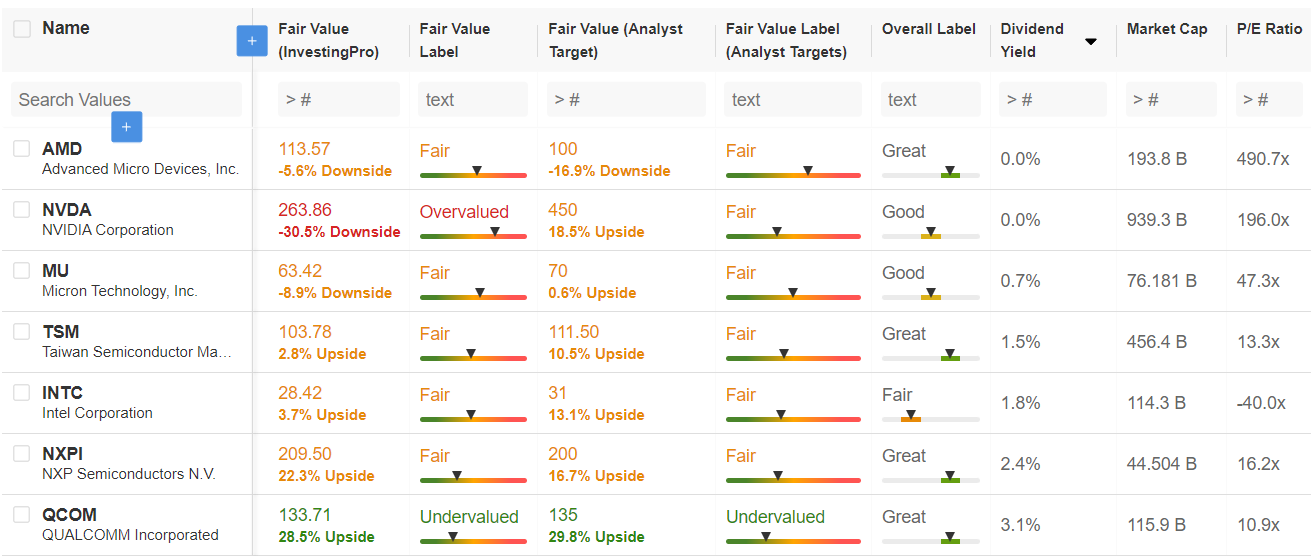 Source: InvestingPro
Based on data from InvestingPro, Nvidia shares look to be very highly valued at the moment, with a price-to-earnings (P/E) ratio of 196x. While this is lower than AMD's P/E, it is still far above average for the sector.
What's more, we can see that the InvestingPro Fair Value calculation, which uses several recognized financial models to determine the fair value of any stock, stands at $263.86 for Nvidia. That translates into downside risk of 30.5% from the current price.
As for the other stocks, AMD, Micron, Intel, NXP, and Taiwan Semiconductor appear to be fairly valued, with limited room for upside and even potential downside, according to the InvestingPro Fair Value models and average analyst targets.
Only one stock on this list is considered undervalued by the InvestingPro models: Qualcomm. Wall Street analysts consider it undervalued, per InvestingPro, and it also shows the greatest bullish potential of the group, not only according to InvestingPro Fair Value but also based on analyst price targets. Finally, Qualcomm also commands the lowest P/E ratio of the group.
Qualcomm: Unfairly Criticized?
A quick glance at the daily chart of Qualcomm shares doesn't exactly give us much incentive to invest. Since its all-time high of over $193.58 in January 2022, the stock has been in a powerful downtrend.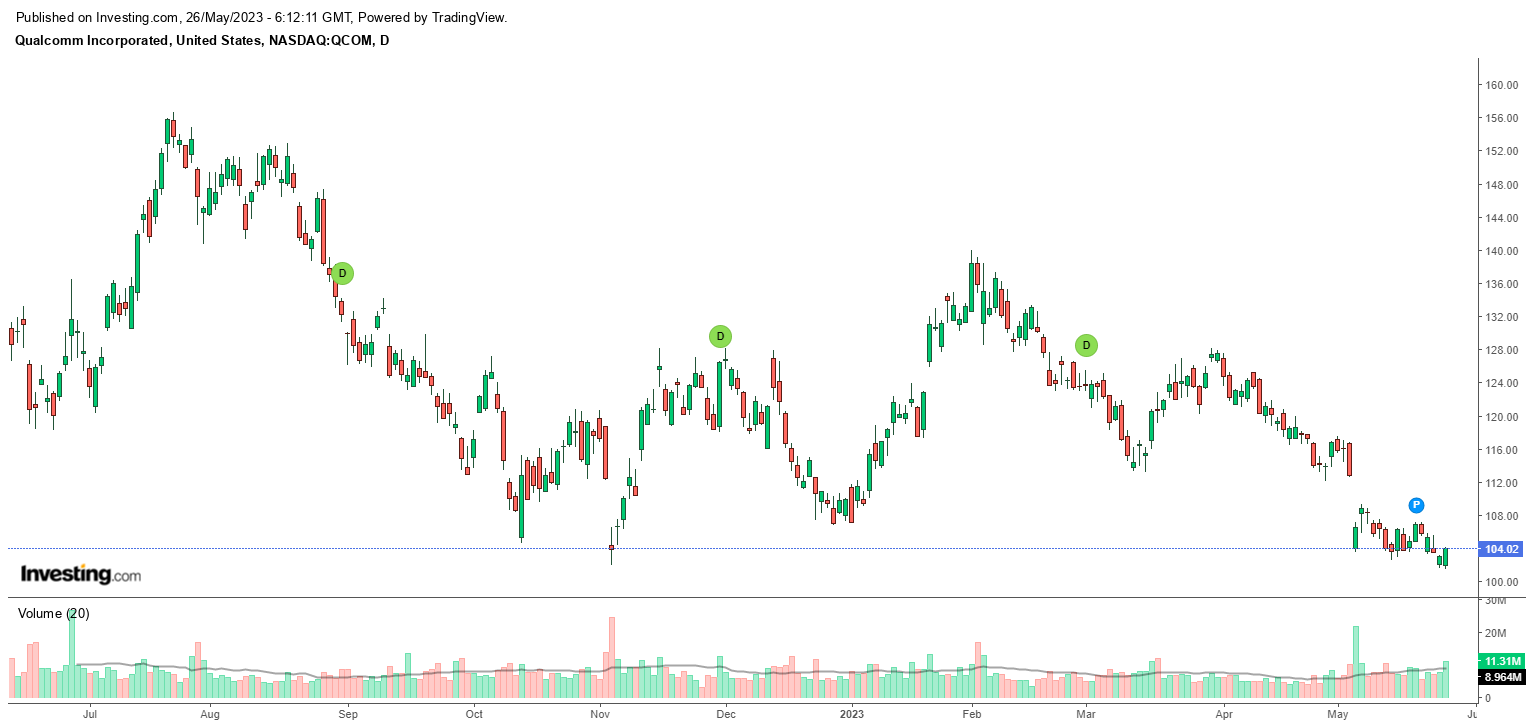 Source: Investing.com
In particular, the stock bottomed out at $101.58 on Wednesday, a threshold not touched since July 2020.
It's also interesting to note that the company's latest earnings results seem to have unfairly and heavily punished the company. On May 3, Qualcomm published EPS that was marginally below consensus, as well as sales that exceeded expectations by 1.7%.
Yet shares plunged by over 8% the following day and then continued to fall, suggesting that Qualcomm's valuation may now be attractive for a buy.
Dividends: Another Reason to Consider Qualcomm
One notable perk of owning this stock is its dividend payout.

Source: InvestingPro
With a yield of 3.11%, Qualcomm's dividend is one of the highest among chip stocks.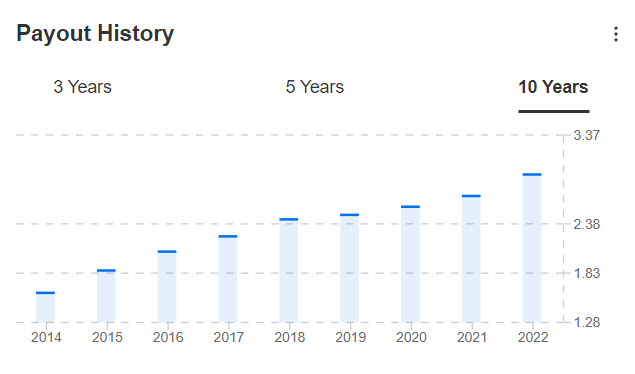 Source: InvestingPro
According to InvestingPro data, the dividend has been consistently increasing for the past 20 years, and there are no indications that this trend will slow down.
Solid Financial Health
Finally, it's reassuring to note that Qualcomm's financial health ratings are solid.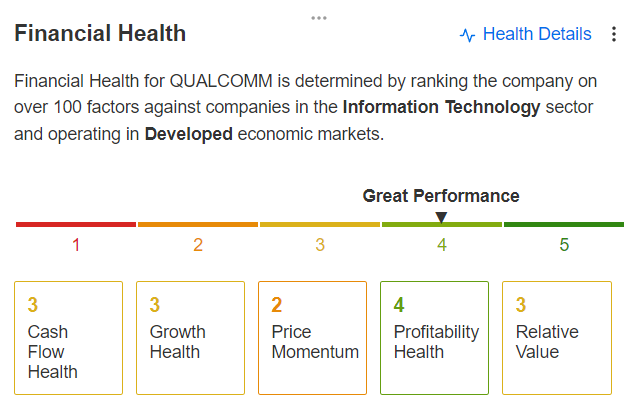 Source: InvestingPro
According to InvestingPro's financial health ratings, Qualcomm's financial performance is rated 4 out of 5.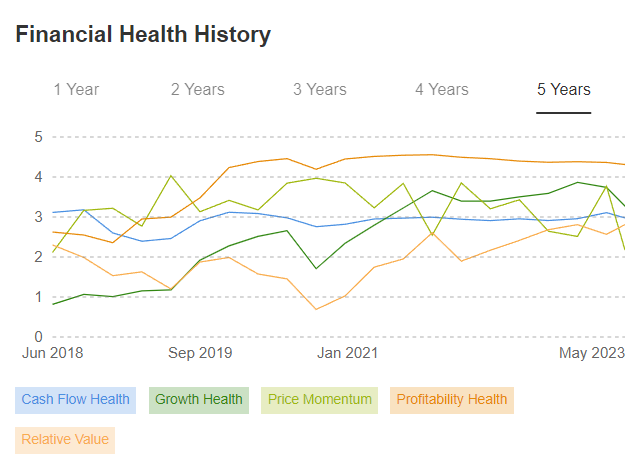 Source: InvestingPro
On top of that, the San Diego, California-based chipmaker's financial-health trend has been positive in recent years.
Conclusion
Although Nvidia is an attractive name amid the AI buzz, it is probably not an ideal time to buy this overvalued stock. But that doesn't mean all chip stocks should be shunned.
Our analysis has revealed that there are several companies to consider buying right now, among them Qualcomm, that have a lot of room to rally based on current valuations.
If you're interested in conducting your own research using a powerful analysis tool, you can sign up for a free 7-day trial of InvestingPro today!
Disclaimer: This article is written for informational purposes only; it does not constitute a solicitation, offer, advice, counseling, or recommendation to invest as such it is not intended to incentivize the purchase of assets in any way. I would like to remind you that any type of asset, is evaluated from multiple points of view and is highly risky and therefore, any investment decision and the associated risk remain with the investor.