Tuesday was the largest single-day outflow ever for BlackRock Inc.'s (BLK) iShare's fixed-income ETFs, a spokeswoman said.

Some $6.2 billion poured out of bond ETFs on Tuesday as investor concerns over Ukraine cooled, driving a global stock-market rally and a selloff in safe-haven bonds.

Tuesday's bond ETF withdrawal was equal to roughly 2.5% of the $240 billion bond ETF market, according to research and analysis firm ETF.com. In contrast, some $1.9 billion flowed into U.S. stock funds Tuesday, representing 0.2% of total assets.
Let Them Reallocate
From a fund-flow perspective, the blue bars in the below chart displays the rolling one-year sum of fund flows into equity mutual funds versus the move in the S&P 500 Index. In spite of the strong positive return in the S&P 500 Index since the bottom of the financial crisis in 2008/2009, it appears investors are just now beginning to reallocate their investments into equity assets. The second chart below compares the monthly net fund flows between equity and fixed income investments. This chart also suggests the flows out of fixed income are just recently beginning to take place.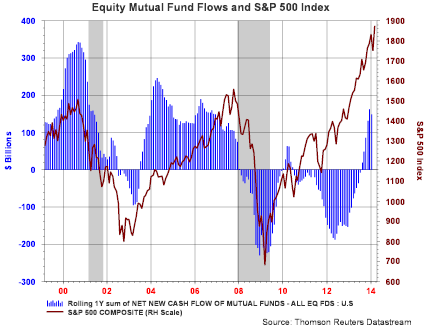 Mutual Funds And The S&P 500
From The Blog of HORAN Capital Advisors