Investing.com - U.S. stock markets closed mixed Tuesday, as positive words from Ben Bernanke counteracted negative earning reports.
Near the close of U.S. trade, the Dow Jones Industrial Average fell 0.06%, the S&P 500 index climbed 0.07%, while the Nasdaq Composite index added 0.02%.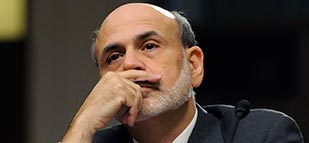 Lifting sentiment, Ben Bernanke stated that an agreement was very close to reduce long term Federal Budget deficits.
He went on to say that the solving of the fiscal cliff dilemma may result in a very good year.
But stocks took a hit Tuesday after ratings agency Moody's downgraded France's AAA-rating by one notch to AA1 and kept a negative outlook on the rating, citing weakening growth prospects for the euro zone's second-largest economy.
The downgrade followed a similar move by Standard & Poor's several months ago, leaving Fitch Ratings as the only ratings firm to keep France at triple-A.
Investors now looked ahead to of a meeting of euro zone finance ministers later in the day in Brussels to discuss whether Greece can receive its next installment of bailout funds.
In earnings news, shares in Hewlett Packard tanked 12.3% to the lowest level since 1994 after the company reported an USD8.8 billion asset impairment charge related to its acquisition of Autonomy Corporation. HP bought Autonomy in 2011 for about USD10 billion.
The PC giant also said fourth quarter revenue totaled USD29.96 billion, below expectations for sales of USD30.5 billion.
Troubled electronics retailer Best Buy saw shares tumble 9.3% after announcing lower-than-expected third quarter earnings.
On the upside, Krispy Kreme Doughnuts saw shares surge 11% after reporting a 6.9% increase in third quarter earnings from the same period a year earlier. The strong results prompted the company to raise its full-year earnings outlook.
Meanwhile, Green Mountain Coffee Roasters shares rallied 8.8% after the company named former Coca Cola executive Brian Kelley as president, chief executive officer, and board member effective December 3.
Official data released earlier showed that U.S. housing starts rose 3.6% in October to a seasonally adjusted annual rate of 0.894 million, confounding expectations for a 3.7% decline to 0.840 million.
Housing starts for September were revised down to 0.863 million units from a previously reported 0.872 million units.
However, the number of building permits issued in October fell 2.7% to a seasonally adjusted 0.866 million, compared to expectations for a decline to 0.865 million.
Building permits issued in September totaled 0.890 million units.
At the close of European trade, the EURO STOXX 50 gained 0.58%, France's CAC 40 soared 0.65%, while Germany's DAX 30 added 0.69%.
Investors are awaiting the U.S. initial jobless claims on Wednesday.