Investing.com - U.S. stocks opened steady to higher on Wednesday, after strong earnings reports and as markets eyed U.S. new home sales data amid ongoing uncertainty over the future of the Federal Reserve's stimulus program.
During early U.S. trade, the Dow Jones Industrial Average dipped 0.04%, the S&P 500 index eased up 0.06%, while the Nasdaq Composite index climbed 0.69%.
Stocks remained supported as weaker U.S. data recently dampened expectations that the Fed will scale back its easing program later this year.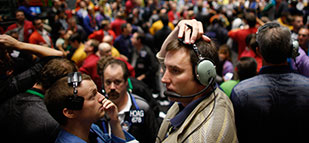 Last week Fed Chairman Ben Bernanke said the bank could start tapering bond buying by the end of the year if the economy continues to improve, but added that there was no "preset course."
Meanwhile, fresh concerns over a slowdown in the world's second largest economy were fuelled after the preliminary reading of China's HSBC manufacturing PMI fell to an 11-month low of 47.7 in July, from a final reading of 48.2 last month. Analysts had expected the index to rise to 48.6.
Tech giant Apple surged 5.13% after topping analysts' earnings projections in its fiscal third quarter, even as profit declined from a year earlier and sales were largely flat.
After the close of the U.S. trading session on Tuesday, the company reported earnings of USD7.47 a share, beating the USD7.30 average estimate. The company also announced that iPhone sales grew more than expected.
In the same sector, Dell shares slid 0.33% as the company's postponed special shareholder meeting was to take place later in the day. Shareholders were to vote on Chief Executive Officer Michael Dell's takeover proposal.
Elsewhere in earnings news, Ford blew past expectations, thanks to strong pickup truck demand in North America and record profits in the Asia-Pacific region, sending shares up 2.54%.
Aircraft manufacturer Boeing also gained groun, up 0.95%, after exceeding market expectations and lifting its full-year earnings forecast, despite ongoing issues with its 787 model.
On the downsde, Caterpillar missed quarterly projections and cut its full-year outlook, sending shares down 1.64%.
Other stocks expected to be in focus included Facebook, Qualcomm, Visa and Akamai, scheduled to post second quarter results after the closing bell.
Across the Atlantic, European stock markets were sharply higher. The EURO STOXX 50 jumped 1.07%, France's CAC 40 rallied 1.19%, Germany's DAX gained 0.94%, while Britain's FTSE 100 advanced 0.61%.
During the Asian trading session, Hong Kong's Hang Seng Index added 0.24%, while Japan's Nikkei 225 Index slid 0.32%.
Later in the day, the U.S. was to produce official data on new home sales.