Investing.com - U.S. stocks opened steady on Wednesday, after the release of mixed U.S. economic data, while investors continued to focus on U.S. budget negociations.
During early U.S. trade, the Dow Jones Industrial Average inched up 0.01%, the S&P 500 index dipped 0.04%, while the Nasdaq Composite index rose 0.23%.
In a report, the U.S. Census Bureau said that U.S. housing starts fell by 3% in November to a seasonally adjusted 0.861 million, compared to a 2.5% decline to 0.873 million.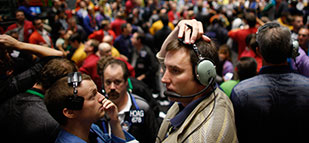 Housing starts for October were revised down to 0.888 million units from a previously reported 0.894 million units.
The report also showed that the number of building permits issued in November jumped 3.6% to a seasonally adjusted 0.899 million, compared to expectations for a gain of 0.8% to 0.875 million.
Building permits issued in October totaled 0.868 million units.
Meanwhile, sentiment remained supported by signs of progress in negotiations aimed at avoiding the fiscal cliff, automatic tax hikes and spending cuts due to take effect on January 1, which investors fear could threaten U.S. and global growth.
Among earnings, FedEx surged 2.19% after the package-delivery company posted earnings that dropped less-than-expected.
In the pharmaceutical sector, pharmaceutical giant Pfizer advanced 0.43% after saying it plans to cut about 20% of its sales force for primary-care drugs, according to a Bloomberg report.
General Motors added to gains, with hares soaring 8.46% after the automaker said it will buy back 200 million of its own shares from the Treasury for USD27.50 a share over the next 15 months.
Elsewhere in company news, Knight Capital rallied 6.31% after agreeing to be acquired by Getco in deal valued at nearly USD1.4 billion.
On the downside, Google dipped 0.06% after a U.S. judge ruled the company's Motorola Mobility unit cannot assert a patent against Apple which covers a sensor that stops phone users from dialing wrong numbers on touchscreen devices.
Separately, the New York Times reported that the Federal Trade Commission is unlikely to finish its investigation before January into whether Google abused its power in the search market.
Other stocks in focus included Accenture, the technology outsourcing and consulting company, due to report first quarter results after the market close.
Across the Atlantic, European stock markets were higher. The EURO STOXX 50 climbed 0.60%, France's CAC 40 rose 0.46%, Germany's DAX added 0.33%, while Britain's FTSE 100 advanced 0.67%.
During the Asian trading session, Hong Kong's Hang Seng Index climbed 0.57%, while Japan's Nikkei 225 Index surged 2.39%.