Investing.com - U.S. shares soared higher Thursday as pending home sales increased more than forecast and mostly solid earnings lifted equity sentiment..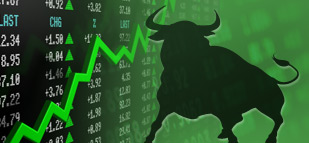 At the close of U.S. trade, the Dow Jones Industrial Average moved higher by 0.87%, the S&P 500 added 0.71%, while the Nasdaq Composite advanced 0.68%.
Sparking the risk on trade, pending U.S. home purchases surged 4.1% in March to 101.4, the highest level since April, 2010.
However, official data indicated U.S. Initial Jobless Claims fell less-than-expected to a seasonally adjusted 388K last week from 389K in the preceding week whose figure was revised up from 386K.
Analysts had expected Initial Jobless Claims to fall to 375K last week.
In the euro zone, the European Commission reported that an index of executive and consumer sentiment dropped to 92.8 from a revised 94.5 in March.
Economists were expecting a slide to 94.2 adding to the negative euro region sentiment.
Meanwhile, Ben Bernanake signaled yesterday that further stimulus from the central bank is unlikely unless the economy surprisingly starts to weaken.
The Fed Chief repeated his goal of keeping borrowing costs low until late 2014, at the earliest.
In bearish news, Aetna gave back 8.3% after missing analysts first quarter earnings estimates.
Ancestry.com soared 7.7% upon beating first quarter earning forecasts.
Cirrus Logic, a provider of iPhone and iPad parts, rallied 17% after beating earnings estimates.
At the close of European trade, the EURO STOXX 50 gave back 0.1%, France's CAC 40 fell 0.13%, while Germany's DAX climbed 0.53%. Meanwhile, in the U.K. the FTSE 100 gained 0.52%.
Traders are awaiting the U.S. GDP, German consumer climate and a tentative press conference from the Bank of Japan.