Investing.com - U.S. stocks opened lower on Thursday, as the Chicago purchasing managers' index for January overshadowed the earlier release of a disappointing U.S. jobless claims report.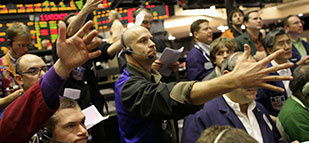 During early U.S. trade, the Dow Jones Industrial Average rose 0.19%, the S&P 500 index added 0.03%, while the Nasdaq Composite index advanced 0.35%.
Market research group Kingsbury International said its Chicago purchasing managers' index rose to a seasonally adjusted 55.6 in January from a revised reading of 50.0 in December.
Analysts had expected the index to improve to 50.5 in January.
Earlier Thursday, the U.S. Department of Labor said the number of individuals filing for initial jobless benefits last week rose by 38,000 to a seasonally adjusted 368,000, compared to expectations for an increase of 20,000 to 350,000.
A separate report showed that personal incomes in the U.S. jumped 2.6% in December, the largest increase in eight years, while personal spending rose 0.2%, below expectations for a 0.3% increase.
The data came one day after the Federal Reserve on Wednesday said that it would continue to pursue its easing program and reiterated that it would hold interest rates close to zero until the U.S. unemployment rate falls below 6.5%.
Financial stocks were mostly higher, as Goldman Sachs and JP Morgan inched up 0.05% and 0.06% respectively, while Citigroup rose 0.33% amid reports it is looking to pull out of consumer banking in a number of countries, with hopes of lowering costs and boosting profits.
Bank of America underperformed on the other hand, dropping 0.62%.
Among earnings, Qualcomm surged 6.05% after reporting late Wednesday that it beat expectations for its fiscal first-quarter earnings and revenue and raised its financial targets for 2013, thanks to growing demand for smartphones and high-speed wireless services.
On the downside, Facebook tumbled 5.83%, even after saying that it doubled its mobile advertising revenue in the fourth quarter, a sign that the social network giants is seeing early success in expanding onto handheld devices as more of its users migrate to smartphones and tablets.
Boeing added to losses, slipping 0.20%, after All Nippon Airlines said it lost more than USD15 million in revenue from having to cancel Dreamliner flights this month.
Elsewhere, ConocoPhillips tumbled 3.90% after reporting a drop in quarterly profit as oil and gas prices weakened and output from the third-largest U.S. oil and gas producer remained steady compared with a year before.
Across the Atlantic, European stock markets were lower. The EURO STOXX 50 slipped 0.24%, France's CAC 40 fell 0.23%, Germany's DAX edged down 0.11%, while Britain's FTSE 100 declined 0.23%.
During the Asian trading session, Hong Kong's Hang Seng Index dropped 0.39%, while Japan's Nikkei 225 Index added 0.22%.