Investing.com - U.S. stocks opened higher on Wednesday, after the release of positive U.S. economic data, while markets wound down ahead of the U.S. Thanksgiving holiday on Thursday.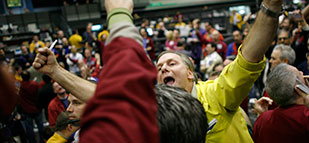 During early U.S. trade, the Dow Jones Industrial Average rose 0.23%, the S&P 500 index edged up 0.12%, while the Nasdaq Composite index added 0.20%.
In the U.S., the Department of Labor said the number of individuals filing for initial jobless benefits last week declined to a seasonally adjusted 410,000, in line with expectations.
Jobless claims for the preceding week were revised up to 451,000 from a previously reported 439,000.
A separate report showed that the U.S. manufacturing purchasing managers' index improved to 52.4 in November from a reading of 51 the previous month. Analaysts had expected the index to rise to 51.20 this month.
Meanwhile, arket sentiment remained weak after talks between euro zone finance ministers and the International Monetary Fund concluded on Tuesday without reaching a deal on unlocking Greece's bailout package, amid disagreements on how best to reduce the country's debt to sustainable levels.
In the retail sector, Salesforce.com Inc saw shares surge 5.43% after the company forecast fiscal fourth-quarter sales and profit in line with analysts' estimates.
On the downside, Hewlett-Packard dropped 0.68% after accusing on Tuesday Autonomy, the software maker it bought last year, of a broad range of financial falsehoods resulting in an EUR8.8 billion writedown.
Meanwhile, Deere saw shares dive 4.11%, as the the world's largest maker of agricultural equipment reported fourth-quarter earnings that missed analysts' estimates after sales outside the U.S. and Canada declined.
Profit climbed to USD1.75 a share in the three months through October 31 from USD1.62 a share a year earlier, according to Bloomberg.
Elsewhere, HeartWare International, a maker of implantable pumps for hearts, plunged 6.37%, after Wells Fargo & Co. downgraded the stock to market perform, the equivalent of hold, from outperform.
Across the Atlantic, European stock markets were mixed to higher. The EURO STOXX 50 rose 0.35%, France's CAC 40 added 0.37%, Germany's DAX edged up 0.13%, while Britain's FTSE 100 dipped 0.01%.
During the Asian trading session, Hong Kong's Hang Seng Index surged 1.39%, while Japan's Nikkei 225 Index climed 0.87%.
Later in the day, the University of Michigan is to release revised data on U.S. consumer sentiment and inflation expectations.