Investing.com - U.S. stocks opened moderately higher on Wednesday, despite a string of disappointing U.S. economic data, as upbeat earnings reports and speculation Spain is moving closer to requesting a bailout from its euro zone partners lifted sentiment.
During early U.S. trade, the Dow Jones Industrial Average dipped 0.08%, the S&P 500 index inched up 0.02%, while the Nasdaq Composite index rose 0.26%.
The U.S. Commerce Department said that retail sales fell by a seasonally adjusted 0.3% in October, disappointing expectations for a 0.2% decline.
A separate report showed that producer price inflation in the U.S. fell unexpectedly in October, while core prices also dipped.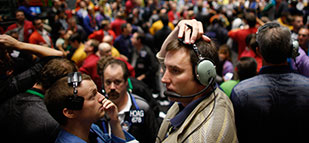 Meanwhile, the Labor Department said that producer prices fell by a seasonally adjusted 0.2% in October, compared to expectations for a 0.2% increase, after rising 1.1% in September.
But sentiment improved amid reports the European Union Commissioner for economic and monetary affairs Olli Rehn was to make a statement on Spain later in the day.
Investor confidence was also supported after German newspaper Bild reported Tuesday that Greece could receive three bailout installments in one single payment of EUR44 billion, citing German government sources.
Among earnings, Abercrombie & Fitch skyrocketed 28.45% after the teen clothing retailer posted a higher quarterly profit, thanks to improved demand in international markets, prompting the company to raise its yearly earnings guidance.
Staples added to gains, as shares surged 2.76% after the office supply chain reported slightly better-than-expected earnings, excluding one-time items, although weakness in Europe and Australia hurt overall revenue.
Meanwhile, Cisco Systems saw shares soar 7.21% after the networking-gear maker reported quarterly results that topped expectations and also issued guidance that matched estimates.
Elsewhere in the tech sector, Intel and Qualcomm were reportedly in talks to jointly invest about USD378 million in debt-stricken Japanese consumer electronics maker Sharp. The news sent shares in Intel up 0.81%, while Qualcomm advanced 0.49%.
Also on the upside, Facebook rallied 9.01% ahead of the social-network giant's lockup expiration that will make about 804 million shares available for trading.
Social gane services company Zynga was also in the spotlight, with shares soaring 2.84% after Chief Financial Officer David Wehner said he will be departing to take a senior finance job at Facebook.
In the financial sector, shares were mostly trending higher. Bank of America added 0.11% and JP Morgan rose 0.25%, while Citigroup advanced 0.53%. Goldman Sachs underperformed on the other hand, with shares dropping 0.49%
Across the Atlantic, European stock markets were lower. The EURO STOXX 50 fell 0.19%, France's CAC 40 slid 0.29%, Germany's DAX retreated 0.45%, while Britain's FTSE 100 dropped 0.65%.
During the Asian trading session, Hong Kong's Hang Seng Index jumped 1.2%, while Japan's Nikkei 225 Index inched up 0.04%.
Later in the day, the Federal Reserve was to publish the minutes of its most recent policy-setting meeting.