Investing.com - U.S. stocks opened mixed on Wednesday, as recent upbeat economic reports out of China lent some support to market sentiment, while investors continued to monitor developments in Syria.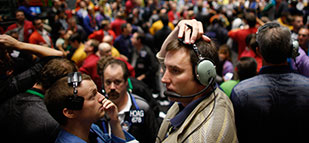 During early U.S. trade, the Dow Jones Industrial Average rose 0.20%, the S&P 500 index dipped 0.05%, while the Nasdaq Composite index shed 0.42%.
Market sentiment remained supported after improved Chinese data on retail sales, industrial production and exports earlier in the week added to signs that the world's second largest economy is recovering from a slowdown.
In the U.S., President Barack Obama agreed on Tuesday to explore a plan proposed by Russia for Syria to place its chemical weapons under international control in order to avoid a U.S. military strike.
Apple shares plunged 5.09% a day after the company unveiled two new iPhones - the iPhone 5C and the iPhone 5S.
Also in the tech sector, International Business Machines reportedly agreed to sell its customer-care outsourcing business to Synnex for USD505 million to focus on more profitable investments. The news sent shares up 0.29%.
Elsewhere, Verizon Communications dipped 0.04% after officially launching a massive bond sale, offering $USD9 billion worth of debt in the biggest-ever corporate issue on record.
Meanwhile, financial stocks were mixed, as JPMorgan Chase slipped 0.29% and Citigroup fell 0.27%, while Bank of America and Goldman Sachs gained 0.21% and 0.36% respectively.
JPMorgan Chase announced earlier that it decided to ease mortgage lending standards in housing markets where prices are rising. The bank lowered some down payment requirements in Florida, Nevada, Arizona and Michigan because they will "no longer be considered distressed states," the bank said.
Other stocks likely to be in focus included Men's Warehouse, scheduled to report second-quarter earnings later in the day.
Across the Atlantic, European stock markets were mixed. The EURO STOXX 50 added 0.21%, France's CAC 40 fell 0.10%, Germany's DAX climbed 0.50%, while Britain's FTSE 100 eased 0.08%.
During the Asian trading session, Hong Kong's Hang Seng Index edged down 0.17%, while Japan's Nikkei 225 Index inched 0.01% higher.