Investing.com - U.S. stocks were little changed on Monday, after data showing that U.S. durable goods orders fell by the most in almost a year in July eased expectations for a near-term reduction in stimulus by the Federal Reserve.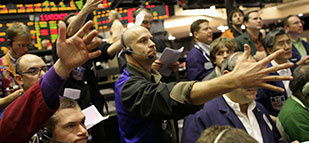 During early U.S. trade, the Dow Jones Industrial Average eased 0.06%, the S&P 500 index inched 0.03% higher, while the Nasdaq Composite index added 0.08%.
The Commerce Department said durable goods orders dropped 7.3% in July, worse than expectations for a 4% decline. It was the largest decline since August 2012.
Core durable goods orders, excluding volatile transportation items, fell 0.6% last month, defying expectations for a 0.5% increase.
The data came after a report on Friday showed that U.S. new home sales fell by a larger-than-forecast 13.4% in July, the largest decline in more than three years.
The weak data added to uncertainty over whether the Fed will start to taper its USD85 billion-a-month asset purchase program next month.
Among pharmaceutical companies, Amgen surged 5.15% after saying it will acquire Onyx Pharmaceuticals in a USD10.4 billion transaction, giving Amgen access to a rapidly expanding cancer market.
Onyx Pharmaceuticals rallied 5.74% following the news.
Goldman Sachs edged up 0.07% even as the Financial Times reported that the U.S. lender placed four senior technology specialists on administrative leave after a programming error caused the investment bank to send faulty stock-options orders last week.
Meanwhile, other U.S. banks were mixed. JP Morgan slipped 0.29% and Bank of America lost 0.27%, while Citigroup added 0.22%.
Last week, Moody's Investors Service warned that it might cut the credit ratings of the six biggest U.S. banks, including Goldman Sachs, JPMorgan Chase, Morgan Stanley and Wells Fargo, saying the government may be unlikely to bail them out should they face trouble in the future.
Elsewhere, Microsoft shares tumbled 1.03%, as the company began looking for a new Chief Executive Officer, after announcing that Steve Ballmer said he will retire within 12 months.
Across the Atlantic, European stock markets were mixed. The EURO STOXX 50 slid 0.38%, France's CAC 40 fell 0.27%, Germany's DAX edged up 0.08%, while Britain's FTSE 100 remained closed for a national holiday.
During the Asian trading session, Hong Kong's Hang Seng Index climbed 0.65%, while Japan's Nikkei 225 Index edged down 0.18%.