Investing.com - U.S. stocks fell on Friday though they trimmed earlier losses after the U.S. government reported earlier that the economy picked up a fraction of the new jobs that market watchers were expecting.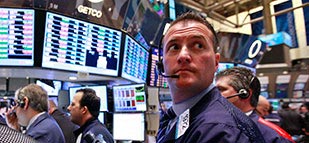 At the close of U.S. trading, the Dow Jones Industrial Average finished down 0.38%, the S&P 500 index fell 0.43%, while the Nasdaq Composite index fell 0.65%.
The U.S. Bureau of Labor Statistics reported earlier the economy added 88,000 nonfarm payrolls in March, way below expectations for a gain of 200,000 and below the 268,000 jobs added in February.
The private sector added 95,000 jobs last month, after an increase of 254,000 in February, missing expectations for a 209,000 rise.
The report also showed that the U.S. unemployment rate ticked down to 7.6% in March, from 7.7% the previous month, as more Americans left the labor force.
Analysts were expecting the headline unemployment rate to remain unchanged last month.
The news sent stocks falling, though they later rebounded as disappointing data on jobless claims and private-sector hiring released earlier this week were already priced into the market.
Furthermore, the numbers rekindled talk the Federal Reserve will keep stimulus programs in place, which push up stock prices as a side effect.
Elsewhere in the U.S., the Commerce Department reported that the U.S. trade deficit narrowed unexpectedly in February, coming in at USD43 billion compared to a USD44.5 billion deficit the previous month.
Analysts were expecting the country's trade deficit to widen to USD44.6 billion in February.
Concerns that tensions with North Korea may rise to the point fear affects the global economy kept prices lower as well.
Leading Dow Jones Industrial Average performers included Boeing, up 1.46%, JPMorgan Chase, up 0.91%, and McDonald's, up 0.78%.
The Dow Jones Industrial Average's worst performers included American Express, down 2.20%, Cisco Systems, down 2.09%, and Hewlett-Packard, down 1.39%.
European indices, meanwhile, finished lower.
After the close of European trade, the EURO STOXX 50 fell 1.38%, France's CAC 40 fell 1.68%, while Germany's DAX 30 finished down 2.03%. Meanwhile, in the U.K. the FTSE 100 finished fell 1.49%.