Investing.com - U.S. stocks fell on Monday after a European Union bailout package for Cyprus involved plans to slap a tax on bank deposits in Cyprus, which sparked fears the European debt crisis may rekindle and roil markets.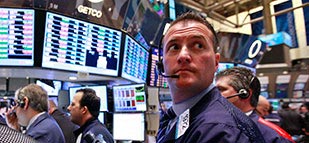 At the close of U.S. trading, the Dow Jones Industrial Average finished down 0.43%, the S&P 500 index ended down 0.55%, while the Nasdaq Composite index fell 0.35%.
The one-time tax taking aim at Cypriot bank deposit holders forms part of a EUR10 billion bailout deal, and the proposal sent stocks falling across the globe on fears that uncertainty may grow since smaller depositors may be affected.
The move also spooked investors on sentiment that an era of eurozone bailouts that avoided touching bank deposits may now be ending, which bolstered the dollar's safe-harbor appeal.
The euro and other currencies eventually found support after the Cypriot parliament delayed voting on the measure and mull ways to possibly soften the blow on smaller depositors.
Elsewhere, the National Association of Home Builders reported that its homebuilder sentiment index fell to 44 in March from 46 in February, missing market calls for a rise to 47.
Leading Dow Jones Industrial Average performers included Hewlett-Packard, up 3.21%, Verizon Communications, up 1.52%, and Caterpillar, up 0.64%.
The Dow Jones Industrial Average's worst performers included Boeing, down 1.45%, Walt Disney, down 1.25%, and Cisco, down 1.14%.
European indices, meanwhile, finished lower.
After the close of European trade, the EURO STOXX 50 fell 0.74%, France's CAC 40 fell 0.48%, while Germany's DAX 30 finished down 0.40%. Meanwhile, in the U.K. the FTSE 100 finished down 0.49%.
On Tuesday, markets will continue to track events in Cyprus.
Elsewhere, the U.S. is to release official data on building permits, a leading indicator of future construction activity, and data on housing starts.