Investing.com - U.S. stocks finished mixed to higher on Friday, buoyed by a strong November jobs report, though a weak consumer sentiment report dampened gains.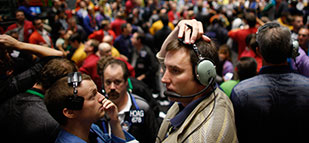 At the close of U.S. trading, the Dow Jones Industrial Average rose 0.62%, the S&P 500 index was up 0.29%, while the Nasdaq Composite index fell 0.38%.
In the U.S. earlier, the Bureau of Labor Statistics reported that the economy added a net 146,000 nonfarm payrolls in November, up from a downwardly revised 138,000 increase during October.
The headline unemployment rate fell to 7.7% in November from 7.9% in October, surpassing market calls for the figure to remain unchanged.
Analysts were expecting the economy to add only 93,000, though Superstorm Sandy inflicted less damage to the broader labor market than anticipated for November.
The news sent stocks jumping early in the session, though soft consumer sentiment figures brought prices back down.
The Thomson Reuters/University of Michigan preliminary index of consumer sentiment fell to a seasonally adjusted 74.5 for December from 82.7 in November, missing analysts' calls for an 82.4 reading.
U.S. fiscal uncertainty dampened the rally somewhat as well.
Republican lawmakers and the Democratically controlled White House continue to negotiate a 2013 fiscal framework.
Failure to reach a deal will allow tax breaks to expire in January at the same time deep spending cuts are due to kick in, a combination known as a fiscal cliff, and failure to avoid it could tip the U.S. economy into a recession next year.
Earlier on Friday, House Speaker John Boehner, an Ohio Republican, said both sides had made no significant progress during budget talks.
Leading Dow Jones Industrial Average performers included JP Morgan Chase & Co., up 2.65%, Bank of America, up 1.72%, and Caterpillar, up 1.22%.
The Dow Jones Industrial Average's worst performers included Microsoft, down 1.05%, Alcoa, down 0.82%, and Cisco Systems, down 0.72%.
European indices, meanwhile, finished mixed.
After the close of European trade, the EURO STOXX 50 fell 0.15%, France's CAC 40 rose 0.11%, while Germany's DAX 30 finished down 0.22%. Meanwhile, in the U.K. the FTSE 100 rose 0.22%.