Investing.com - U.S. stocks rose on Tuesday after the U.S. government reported that retail sales expanded for a fourth consecutive month in July and pointed to an economy that continues to gain steam.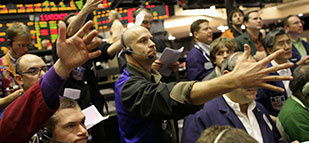 Comments from a senior Federal Reserve official that stimulus programs could remain in place regardless gave stocks added support.
At the close of U.S. trading, the Dow Jones Industrial Average finished up 0.20%, the S&P 500 index rose 0.28%, while the Nasdaq Composite index rose 0.39%.
The Commerce Department reported earlier that retail sales rose by 0.2% in July, slightly below expectations for a 0.3% increase though an expansion nonetheless.
Retail sales figures for June were revised up to a 0.6% gain from a previously reported increase of 0.4%, the U.S. government added.
Core retail sales, which are stripped of automobile sales, rose at their fastest pace in seven months, expanding 0.5% compared to forecasts for a 0.4% gain.
While markets applauded the data, Federal Reserve Bank of Atlanta President Dennis Lockhart said the Fed still cannot decide if it will begin tapering stimulus programs in September though he did say such a decision was possible.
Stimulus measures such as the Fed's USD85 billion in monthly asset purchases boost stock prices by driving down borrowing costs, and talk of their tapering can send stocks falling by fueling uncertainty as to how markets will perform without monetary support, though Lockhart's comments on Tuesday calmed nerves and allowed equities prices to advance.
Leading Dow Jones Industrial Average performers included Hewlett-Packard, up 2.13%, Boeing, up 1.92%, and UnitedHealth Group, up 1.34%.
The Dow Jones Industrial Average's worst performers included Microsoft, down 1.92%, Alcoa, down 1.33%, and Verizon, down 0.99%.
European indices, meanwhile, finished higher.
After the close of European trade, the EURO STOXX 50 rose 0.47%, France's CAC 40 rose 0.51%, while Germany's DAX 30 finished up 0.68%. Meanwhile, in the U.K. the FTSE 100 finished up 0.57%.
On Wednesday, the U.S. is to release official data on producer price inflation.