Investing.com - U.S. stocks posted their first, 4-day losing streak in 2013 on Monday after investors avoided equities on sentiments the Federal Reserve is growing closer to announcing plans to taper its stimulus programs.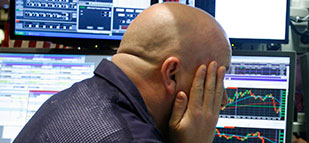 Stimulus measures such as the Fed's monthly USD85 billion in asset purchase tend to inflate stock prices by keeping interest rates low, and talk of their dismantling can send stocks falling.
At the close of U.S. trading, the Dow Jones Industrial Average finished down 0.47%, the S&P 500 index fell 0.59%, while the Nasdaq Composite index fell 0.38%.
Treasury yields soared to two-year highs earlier as markets braced for the Fed to announce plans to taper its monthly asset purchases.
On Wednesday, the Fed will release the minutes of its July policy meeting, and investors avoided stocks before then, largely expecting that an announcement could come at next month's meeting and herald the end of ultra-loose monetary policy.
Weak earnings out of the retail sector pushed down stock prices as well.
Saks posted a wider-than-expected quarterly loss due weak accessories sales that had forced markdowns, while other retailers such as Macy's, Nordstrom, Kohl's and Wal-Mart disappointed as well.
Consumer demand drives about 70% of U.S. economic output.
Elsewhere, JPMorgan Chase tumbled fell on reports that U.S. authorities have opened a bribery probe to find out whether the bank hired the children of Chinese officials to win lucrative business.
Leading Dow Jones Industrial Average performers included Intel, up 1.69%, Boeing, up 1.24%, and Johnson & Johnson, up 1.17%.
The Dow Jones Industrial Average's worst performers included JPMorgan Chase, down 2.72%, Alcoa, down 2.09%, and Hewlett-Packard, down 2.04%.
European indices, meanwhile, finished lower.
After the close of European trade, the EURO STOXX 50 fell 1.09%, France's CAC 40 fell 0.97%, while Germany's DAX 30 finished down 0.31%. Meanwhile, in the U.K. the FTSE 100 finished down 0.53%.
On Tuesday, the U.S. will see the release of the Chicago Fed National Activity Index,