Investing.com - U.S. stocks finished higher on Friday on hopes Black Friday sales will come in strong this year end.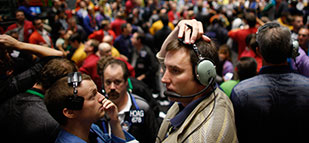 Trading was shortened in wake of the Thanksgiving holiday.
At the close of U.S. trading, the Dow Jones Industrial Average rose 1.35%, the S&P 500 index was up 1.30%, while the Nasdaq Composite index was up 1.38%.
Hopes that consumers will spend more this holiday season rose on the so-called Black Friday, the Friday after Thanksgiving when U.S. consumers traditionally kick off their holiday shopping.
Many retailers opened on Thanksgiving Day to get a jump on the competition, which brought in the buyers in U.S. bourses Friday, with technology and large-cap stocks faring particularly well.
Improving German business confidence numbers sent shares rising as well.
In Europe earlier, the German Ifo Institute reported that its index of business confidence jumped to 101.4 in November from 100.0 in October, beating expectations for a decline to 99.5.
The data came in the heels of a report revealing that Germany's manufacturing purchasing managers' index climbed to 46.8 in November from 46.0 in , beating out market forecasts for a 45.9 reading.
Germany's month-on-month gross domestic product grew 0.2% in the third quarter, in line with expectations.
The broader eurozone's manufacturing purchasing managers' index rose to 46.2 for November from 45.4 in October, above expectations for a reading of 45.6.
Leading Dow Jones Industrial Average performers included Hewlett-Packard, up 4.19%, Microsoft, up 2.78%, and Cisco Sytems, up 1.95%.
The Dow Jones Industrial Average's worst performers included Johnson & Johnson, down 0.11%, Unitedhealth Group, which was up 0.64%, and Pfizer, up 0.66%.
European indices, meanwhile, finished higher.
After the close of European trade, the EURO STOXX 50 rose 0.87%, France's CAC 40 rose 0.87% as well, while Germany's DAX 30 finished up 0.89%. Meanwhile, in the U.K. the FTSE 100 rose 0.49%.