Investing.com - U.S. stock futures pointed to a lower open on Friday, weighed by concerns U.S. lawmakers will be unable to find a deal before next week in order to avoid a fiscal crisis.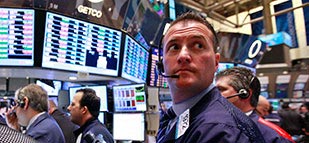 Ahead of the open, the Dow Jones Industrial Average futures pointed to a 0.24% fall, S&P 500 futures signaled a 0.22% decline, while the Nasdaq 100 futures indicated a 0.22% loss.
Markets were jittery as U.S. President Barack Obama was to meet congressional leaders later Friday at the White House for last-minute talks on a "fiscal cliff" deal to avoid automatic tax increases and broad spending cuts that threaten the US economy's recovery.
The meeting comes just four days before the government goes over the so-called fiscal cliff, assuming no deal is reached. Without a deal, the U.S. could fall back into recession and drag much of the world down with it.
Tech stocks were expected to be active after a Chinese court fined Apple USD160,400 for hosting third-party applications on its App Store that were selling pirated electronic books, according to the official Xinhua news agency.
The news sent shares in the iPhone maker down 0.52% in pre-market trade.
Separately, Bloomberg reported that the U.S. Justice Department opened an investigation relating to Autonomy after Hewlett-Packard accused the software company of misrepresenting its performance before being bought last year. HP shares fell 0.28% after hours.
Retailers were also likely to be in focus, as Home Depot and Lowe's were said to have the most at stake among retailers facing a dockworkers' strike, with possible port closings cutting off shipments right before the lucrative gardening season.
Shares in Home Depot dropped 0.58% in late trading.
Elsewhere, satellite television provider DirecTV Group said its service fees would rise by an average of 4.5% in February due to increasing programming costs.
Across the Atlantic, European stock markets were higher. The EURO STOXX 50 slid 0.86%, France's CAC 40 dropped 0.84%, Germany's DAX fell 0.38%, while Britain's FTSE 100 eased 0.08%.
During the Asian trading session, Hong Kong's Hang Seng Index added 0.21%, while Japan's Nikkei 225 Index climbed 0.70%.
Later in the day, the U.S. was to publish data on pending home sales, as well as a report on business conditions in the Chicago area and official data on crude oil stockpiles and natural gas inventories.