Investing.com - U.S. stocks finished Friday mixed as demand for technology and energy concerns partially offset losses sustained when the U.S. government reported that the country's gross domestic product grew less than expected in the first quarter.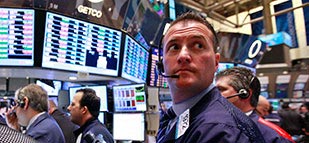 At the close of U.S. trading, the Dow Jones Industrial Average finished up 0.08%, the S&P 500 index fell 0.18%, while the Nasdaq Composite index slid 0.33%.
Shares in Apple and Hewlett-Packard rose on Friday after investors viewed them as nicely priced and brought their peers up with them albeit in quiet trading session.
Elsewhere, Chevron reported first-quarter earnings that topped expectations and sparked demand for energy companies, though disappointing results from Starbucks and guidance from Amazon dampened spirits as did economic indicators.
Earlier Friday, the Bureau of Economic Analysis revealed in a preliminary report that the U.S. gross domestic product rose 2.5% in the first quarter, missing expectations for a 3.0% increase though an improvement from a 0.4% rise in the previous quarter.
Elsewhere, the Thomson Reuters/University of Michigan's consumer sentiment index rose to 76.4 in April, from a reading of 72.3 the previous month, beating expectations for an increase to 73.2.
Leading Dow Jones Industrial Average performers included Hewlett-Packard, up 1.89%, Boeing, up 1.44%, and Chevron, up 1.33%.
The Dow Jones Industrial Average's worst performers included Alcoa, down 1.31%, 3M, down 1.03%, and United Technologies, also down 1.03%.
European indices, meanwhile, finished lower.
After the close of European trade, the EURO STOXX 50 fell 0.77%, France's CAC 40 fell 0.79%, while Germany's DAX 30 finished down 0.23%. Meanwhile, in the U.K. the FTSE 100 finished down 0.25%.