Investing.com - Most Asian bourses are trading higher at this hour after European Union finance ministers approved a plan that will help Cyprus avert bankruptcy and likely remain part of the euro zone.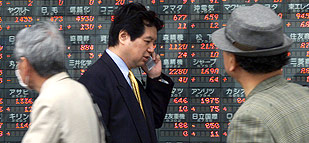 In Asian trading Monday, Japan's Nikkei 225 rose 1.37% after
USD/JPY
soared ahead of testimony from Bank of Japan Governor Haruhiko Kuroda. Kuroda, who last week assuaged traders by reiterating he will do everything in his power to ensure Japan's desired rate of 2% inflation will be met, is scheduled to testify before parliament later today. The Nikkei is now flirting with its highest levels since September 2008.
Hong Kong's Hang Seng rose 0.46% while the Shanghai Composite inched higher by 0.05%.
Earlier today, Cyprus Parliament Speaker Yiannakis Omirou told members of the media that a deal has been reached and that the accord will now be sent to the other euro zone nations to be ratified. Heading into the talks, it was believed that Germany was pushing Cyprus to shrink its banking system. Germany is the region's largest economy.
With a deal in place, Cyprus should be able to meet a deadline imposed by the European Central Bank, which had threatened to withdraw funding, a move that could have hastened Cyprus' bankruptcy and euro zone departure.
Australia's S&P/ASX 200 added 0.6% while New Zealand's NZSE 50 is slightly lower by 0.02%. That country is scheduled to release trade balance data later today.
South Korea's Kospi surged 1.43 after newly installed Finance Minister Hyun Oh Seok, appealed to the G-20 to revisit the issue of the weaker yen. South Korean exporters, which are in direct competition with those in Japan, can be vulnerable to a weaker yen.
Singapore's Straits Times Index is up 0.45% while S&P 500 futures are up 0.40%. The benchmark U.S. index closed lower on a weekly basis last week for just the second time this year. U.S. markets are closed this Friday in observance of the Good Friday holiday.