Investing.com - European stocks turned sharply lower on Monday, despite positive German business climate data, as expectations for the Federal Reserve to scale back its stimulus program continued to weigh.
During European morning trade, the EURO STOXX 50 plunged 1.76%, France's CAC 40 plummeted 1.89% lower, while Germany's DAX 30 tumbled 1.17%.
Earlier Monday, a report showed that the Ifo index of German business climate improved to 105.9 in June from 105.7 in May, in line with market expectations.
But stocks remained under pressure after Fed Chairman Ben Bernanke said last Wednesday that the bank could begin tapering asset purchases by the end of 2013 if the economy continues to pick up.
Investors were also cautious after the International Monetary Fund on Friday said it would not suspend Greek funding and said Athens has until July to come up with an agreement on its bailout program.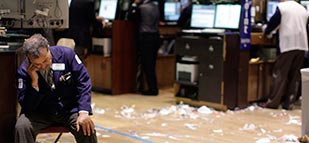 The comments came amid concerns over recent delays in the privatization plan Greece agreed to last year, which could threaten the country's performance on economic reforms needed to secure bailout funding.
Financial stocks remained broadly lower, as French lenders BNP Paribas and Societe Generale plummeted 1.69% and 2.37%, while Germany's Deutsche Bank tumbled 2.07%.
Among peripheral lenders, Spanish banks BBVA and Banco Santander retreated 0.63% and 1.61% respectively, while Italy's Unicredit and Intesa Sanpaolo continued to trend higher, gaining 0.22% and 0.44%.
Elsewhere, Kabel Deutschland rallied 1.90% after Vodafone raised its bid for the company to EUR87 a share from the initial EUR80.
In London, FTSE 100 dropped 1.14%, as U.K. lenders tracked their European counterparts lower.
Shares in the Royal Bank of Scotland declined 0.44% and Lloyds Banking tumbled 1.23%, while HSBC Holdings and Barclays plummeted 1.15% and 1.28%.
Meanwhile, mining stocks remained broadly lower. BHP Billiton and Rio Tinto saw shares slump 0.69% and 1.24% respectively,while Evraz and Vedanta Resources plunged 3.15% and 4.42%.
In the U.S., equity markets pointed to a lower open. The Dow Jones Industrial Average futures pointed to a 0.75% decline, S&P 500 futures signaled a 0.84% drop, while the Nasdaq 100 futures indicated a 0.61% loss.