Investing.com - European stocks turned slightly higher on Wednesday, amid hopes that an agreement on an aid deal for Greece was close, although concerns continued to weigh.
During European afternoon trade, the EURO STOXX 50 rose 0.35%, France's CAC 40 added 0.30%, while Germany's DAX 30 edged up 0.16%.
Market sentiment remained fragil after talks between euro zone finance ministers and the International Monetary Fund concluded on Tuesday without reaching a deal on unlocking Greece's bailout package, amid disagreements on how best to reduce the country's debt to sustainable levels.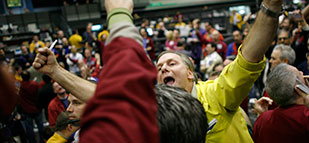 The head of the eurogroup of finance ministers Jean-Claude Juncker said a deal was close he didn't know when Athens would receive its next aid installment. The talks are set to continue next Monday.
Financial stocks turned broadly higher, as shares in French lenders BNP Paribas and Societe Generale climbed 1.17% and 0.42%, while Germany's Commerzbank advanced 0.70%.
Peripheral lenders also gained ground with Italian banks Unicredit and Intesa Sanpaolo rising 0.52% and 0.82%, while Spain's BBVA and Banco Santander added 0.16% and 0.71% respectively.
In London, FTSE 100 inched up 0.08%, after the minutes of the Bank of England's November meeting showed that policymakers were split over more monetary easing, while a separate report showed that U.K. government borrowing rose more-than-expected in October.
U.K. lenders tracked their European counterparts higher, as shares in HSBC Holdings advanced 0.49% and the Royal Bank of Scotland rose 0.57%, while Lloyds Banking and Barclays rallied 0.99% and 1.17% respectively.
Copper producers added to gains, as Xstrata jumped 1.06% and Kazakhmys rose 0.22%.
Meanwhile, mining giants Rio Tinto and BHP Billiton remained on the downside, with shares 1.20% and 0.70%.
Oil and gas major also remained lower, tumbling 1.20%, while rival BP added 0.26%.
Platinum refiner Johnson Matthey dove 6.22%, extending earlier losses, after reporting a six% drop in profits in the first half and saying that it doesn't expect things to pick up in the latter part of the fiscal year.
In the U.S., equity markets pointed to a moderately higher open. The Dow Jones Industrial Average futures pointed to a 0.07% gain, S&P 500 futures signaled a 0.10% rise, while the Nasdaq 100 futures indicated a 0.10% increase.
Later in the day, the U.S. was to release the weekly government report on initial jobless claims. This data was being released one day early ahead of the Thanksgiving holiday on Thursday.