Investing.com - European stocks were sharply lower on Wednesday, ahead of German data as the previous day's strong U.S. data added to expectations for the Federal Reserve to scale back its bond-buying program.
During European morning trade, the EURO STOXX 50 dropped 0.98%, France's CAC 40 declined 0.95%, while Germany's DAX 30 tumbled 1.02%.
Data on Tuesday showed that U.S. consumer confidence rose to the highest level since February 2008 in the current month.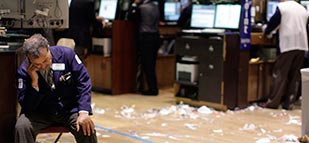 The Conference Board said its index of consumer confidence rose to 76.2 in May from 69.0 in April and beating expectations for a reading of 71.0.
A separate report showed that the Case-Shiller U.S. home price index rose 10.9% in March from a year earlier, the biggest increase since April 2006.
The strong data boosted expectations that the Fed will wind down its USD85 billion-a-month asset purchase program later this year.
Financial stocks were broadly lower, as French lenders BNP Paribas and Societe Generale declined 0.35% and 1.79%, while Germany's Deutsche Bank slipped 0.14%.
Peripheral lenders added to losses, with Spanish banks Banco Santander and BBVA retreating 0.72% and 1.09% respectively, while Italy's Unicredit and Intesa Sanpaolo slid 0.28% and 0.62%.
Elsewhere, H&M tumbled 1.59% after Goldman Sachs downgraded its rating on the stock to "sell" from "neutral", saying the retailer's profitability will suffer as customers shift to online shopping.
In London, FTSE 100 retreated 0.91%, as U.K. lenders tracked their European counterparts lower.
Shares in Lloyds Banking dropped 0.91% and HSBC Holdings tumbled 1.11%, while Barclays and the Royal Bank of Scotland plummeted 1.23% and 1.78%.
Mining stocks were also on the downside, as Rio Tinto and BHP Billiton declined 0.63% and 0.77% respectively, while rivals Antofagasta and Evraz dove 3.29% and 3.75%.
On the upside, De La Rue, a supplier of cash-handling equipment and security products, gained 0.76%, even after saying revenue declined to GBP484 million in the full year through March, less than the GBP509 million profit estimate.
In the U.S., equity markets pointed to a lower open. The Dow Jones Industrial Average futures pointed to a 0.39% decline, S&P 500 futures signaled a 0.46% slump, while the Nasdaq 100 futures indicated a 0.40% loss.
Investors were looking ahead to German data on consumer prices and employment change later in the trading day.