Investing.com - European stocks remained sharply lower on Thursday, despite relatively positive euro zone data, as comments by Federal Reserve Chairman Ben Bernanke signalling a possible near-term end to the bank's stimulus program continued to weigh.
During European afternoon trade, the EURO STOXX 50 plummeted 2.33%, France's CAC 40 declined 2.32%, while Germany's DAX 30 plunged 2.31%.
The euro zone manufacturing purchasing managers' index rose to 48.7 in June from a final reading of 48.3 in May, but remained well below the 50 level that separates contraction from expansion.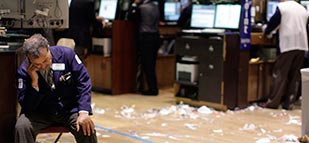 Service sector activity in the euro zone improved to a 15-month high in June, with the services PMI rising to 48.6 from 47.2 in May, above expectations for an increase to 47.5.
But stocks remained under pressure after Fed Chairman Ben Bernanke said the bank could begin slowing asset purchases by the end of 2013 and wind them down completely by the middle of 2014 if the economy picks up as the central bank expects.
Sentiment was also hit after data earlier showed that China's HSBC preliminary manufacturing PMI fell to a nine month low of 48.3 in June from 49.2 in May as new orders fell, indicating that the slowdown in manufacturing is worsening.
Financial stocks pushed lower, as shares in French lenders BNP Paribas and Societe Generale plummeted 3.01% and 3.54%, while Germany's Deutsche Bank retreated 3.30%.
Peripheral lenders added to losses, with Spanish banks Banco Santander and BBVA tumbling 2.86% and 3.26% respectively, while Italy's Intesa Sanpaolo and Unicredit declined 3.40% and 3.03%.
In London, FTSE 100 plummeted 2.16%, as U.K. lenders tracked their European counterparts lower, while data showed that U.K. retail sales rose far more strongly than expected in May.
Shares in Lloyds Banking dropped 0.62% and the Royal Bank of Scotland plunged 3.09%, while HSBC Holdings and Barclays retreated 2.45% and 3.57%.
Bloomberg reported earlier that U.K. Chancellor of the Exchequer George Osborne said the government is "actively considering" selling shares in the Lloyds Banking.
The announcement came after a parliamentary report on Wednesday said Lloyds, which is 39% owned by the government, was better placed than Royal Bank of Scotland to return to private hands.
Aberdeen Asset Management, Scotland's largest money manager, also remained on the downside, diving 6.21% after Goldman Sachs Group downgraded the stock to "neutral" from "buy".
Adding to losses, mining giants BHP Billiton and Rio Tinto sank 4.71% and 5.03% respectively, while Polymetal and Rangold Resources plunged 7.35% and 7.62%.
In the U.S., equity markets pointed to a sharply lower open. The Dow Jones Industrial Average futures pointed to a 0.73% drop, S&P 500 futures signaled a 0.93% decline, while the Nasdaq 100 futures indicated a 0.98% slump.
Also Thursday, Germany's manufacturing PMI fell to 48.7 in June compared to expectations for a reading of 49.8 and down from a final reading of 49.4 in May.
Activity in Germany's services sector rose to a four-month high, with the services PMI improving to 51.3 from 49.7 in May.
Later in the day, the U.S. was to release the weekly government report on initial jobless claims, in addition to data on existing home sales and the Philly Fed manufacturing index.