Investing.com - European stocks were little changed in light trade on Wednesday, as sentiment remained mildly supported by the announcement of fresh easing measures by the Bank of Japan, while uncertainty over whether Spain will ask for more financial aid continued to weigh.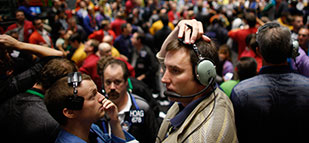 During European afternoon trade, the EURO STOXX 50 slipped 0.07%, France's CAC 40 edged down 0.09%, while Germany's DAX 30 inched 0.05% lower.
The BoJ said earlier that it was boosting the size of its asset-purchase program by JPY10 trillion, in an effort to boost slowing economic activity and to counter the strengthening yen.
Meanwhile, investors remained cautious amid reports Spanish Prime Minister Mariano Rajoy remains uncertain about asking for help from the European Central Bank's new bond-purchasing program, which would mean signing up to a permanent bailout fund.
Financial stocks were mixed, as shares in German lenders Deutsche Bank and Commerzbank rose 0.25% and 1.26%, while France's BNP Paribas and Societe Generale plummeted 2.28% and 2.20% respectively.
Peripheral lenders turned broadly lower, with shares in Italian banks Unicredit and Intesa Sanpaolo declining 1.02% and 0.40%, while Spain's Banco Santander and BBVA dropped 0.93% and 0.33%.
On the upside, Heineken held gains, soaring 6.37%, after stakeholders said they will back the company's USD4.6 billion bid for Asia Pacific Breweries Ltd.
In London, commodity-heavy FTSE 100 added 0.06%, supported by sharp gains in oil and mining stocks and after the minutes of the Bank of England's August meeting showed that policymakers voted unanimously to leave policy unchanged.
Oil giant Anglo American remained one of the session's top gainers, with shares jumping 1.38%, while rival group BP climbed 0.78%.
Mining giant BHP Billiton added 0.21% and rival Rio Tinto dropped 0.74%, erasing earlier gains, while copper producers Xstrata and Kazakhmys remained higher, rising 0.14% and 2.32% respectively.
Lonmin was also on the upside, climbing 2.38%, after the company reached a pay agreement with workers at its Marikana mine in South Africa.
Meanwhile, financial stocks were mixed. Shares in HSBC Holdings jumped 1.17% and Lloyds Banking rose 0.33%, while the Royal Bank of Scotland and Barclays declined 0.51% and 1.65%.
In the U.S., equity markets pointed to a moderately higher open. The Dow Jones Industrial Average futures pointed to a 0.08% rise, S&P 500 futures signaled a 0.08% increase, while the Nasdaq 100 futures indicated a 0.13% gain.
Later in the day, the U.S. was to publish official data on building permits and on housing starts, followed by government data on crude oil stockpiles, as well as an industry report on existing home sales.