Investing.com - European stocks held gains on Thursday, as upbeat manufacturing data from the euro zone and China lifted market sentiment, while investors hoped for progress on a financial aid deal for Greece.
During European afternoon trade, the EURO STOXX 50 climbed 0.51%, France's CAC 40 rose 0.33%, while Germany's DAX 30 advanced 0.84%.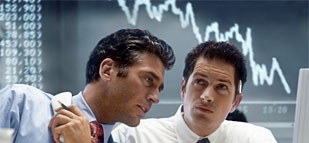 Data showed that Germany's manufacturing purchasing managers' index rose to 46.8 in November, up from 46.0 in October and better than forecasts for a reading of 45.9.
The euro zone's manufacturing PMI rose to 46.2 this month from 45.4 in October, above expectations for a reading of 45.6.
However, the euro zone's services PMI declined to 45.7, from 46.0 in October, compared to expectations for a reading of 46.1.
The data came after a report earlier showed that China's preliminary HSBC manufacturing PMI rose to 50.4 in November, up from a final reading of 49.5 in October.
Sentiment also strengthened after German Chancellor Angela Merkel said an agreement to unlock a delayed bailout installment for Greece was still possible when euro zone finance ministers resume talks on Monday.
Talks between finance ministers and the International Monetary Fund ended without a deal on Tuesday, amid disagreements on how best to reduce the country's debt to sustainable levels.
Financial stocks remained broadly higher, as shares in French lenders BNP Paribas and Societe Generale advanced 0.65% and 0.11%, while Germany's Deutsche Bank and Commerzbank surged 1.34% and 3.49% respectively.
Peripheral lenders also posted sharp gains, with Italian banks Intesa Sanpaolo and Unicredit rallying 0.88% and 1.21%, while Spain's BBVA and Banco Santander climbed 0.71% and 0.70%.
In London, commodity-heavy FTSE 100 rose 0.57%, boosted by gains in oil and mining stocks.
Copper producer Xstrata was on the upside, with shares rallying 2.48%, and was closely followed by rival Kazakhmys, up 2.11%, while Vedanta Resources and steel maker Evraz surged 1.99% and 4.37% respectively.
Mining giants Rio Tinto and BHP Billiton also trended higher, climbing 0.93% and 0.92%, while oil and gas major Anglo American saw shares jump 1.64% and rival BP gained 0.39%.
In the financial sector, LLoyds Banking added 0.22% and HSBC Holdings rose 0.48%, while Barclays advanced 0.55% and the Royal Bank of Scotland rallied 0.90%.
Elsewhere, SABMiller soared 6.95% after saying that earnings rose 17% to USD3.17 billion, beating analysts' estimates.
EasyJet added to gains, climbing 1.32%, after Barclays raised Europe's second-biggest discount airline to equalweight from underweight, saying the company improved both "revenue and non-fuel cost fundamentals."
In the U.S., equity markets were to remain closed for the Thanksgiving holiday.
Also Thursday, Spain successful auctioned EUR3.38 billion of three and five-year bonds at lower yields than previously, easing pressure on Madrid to seek a bailout.