Investing.com - European stocks remained higher on Thursday, after the release of positive German factory orders data, while investors awaited the European Central Bank's monthly policy statement later in the day.
During European afternoon trade, the EURO STOXX 50 added 0.19%, France's CAC 40 inched up 0.08%, while Germany's DAX 30 climbed 0.84%.
Official data showed that German factory orders rose by a seasonally adjusted 3.9% in October, blowing past expectations for a 0.9% gain.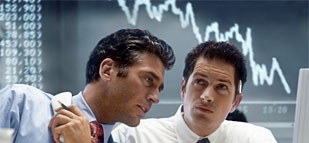 September's figure was revised to a 2.4% drop from a previously reported decline of 3.3%.
Investor confidence also strengthened after U.S. President Barack Obama said a deal to avert the so-called fiscal cliff of year-end tax hikes and spending cuts was possible in "about a week" if Republicans compromise on taxes.
Later Thursday, the ECB was widely expected to keep rates unchanged at 0.75% later Thursday, while a post-policy meeting press conference by President Mario Draghi would be closely watched for indications on the future direction of monetary policy.
Financial stocks remained broadly higher, as shares in French lenders BNP Paribas and Societe Generale rose 0.95% and 0.14%, while Germany's Commerzbank climbed 0.71%.
Deutsche Bank underperformed on the other hand, with shares declining 0.29%, after the Financial Times reported that three former employees told U.S. regulators that the German lender covered up paper losses of as much as USD12 billion during the financial crisis. The bank disputed the allegation.
Elsewhere, GDF Suez dove 11.77% after the company said in a statement late Wednesday that recurring net income will be EUR3.1 billion to EUR3.5 billion euros in 2012, below expectations.
In London, FTSE 100 added 0.07%, after the Bank of England kept its benchmark interest rate unchanged for the 45th consecutive month in December and announced no change to its asset purchase facility program.
Mining company Antofogasta continued to lead gains, surging 3.43%, while copper producers Xstrata and Kazakhmys advanced 1% and 0.88% respectively.
Meanwhile, financial stocks were mixed, as shares in Lloyds Banking and HSBC Holdings slipped 0.17% and 0.03%, while the Royal Bank of Scotland and Barclays rallied 0.56% and 1.05%.
Barclays said earlier that it will increase its stake in South Africa's Absa Group Ltd. The U.K. lender will receive shares worth USD2.1 billion in return for merging operations across Africa.
In the U.S., equity markets pointed to a moderately lower open. The Dow Jones Industrial Average futures pointed to a 0.04% dip, S&P 500 futures signaled a 0.12% loss, while the Nasdaq 100 futures indicated a 0.08% decline.
Later in the day, the U.S. was to publish the weekly government report on initial jobless claims.