Investing.com – European shares plunged lower Monday as Spain slipped into a recession and weak U.S. economic numbers launched the risk off equity trade.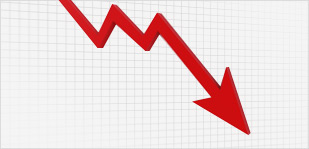 At the close of the European session, the EURO STOXX 50 plummeted 1.60%, France's CAC 40 gave back 1.64%, while Germany's DAX dropped 0.59%. Meanwhile, in the U.K. the FTSE 100 fell 0.68%.
Igniting the risk off sentiment, Spain entered its second recession since 2009 as the struggling countries GDP fell 0.3%, in the first quarter and unemployment climbed to nearly 25%.
In addition, ratings agency Standard & Poor's announced widespread credit ratings downgrades on Spain's troubled banking sector, following a two notch downgrade of the country's sovereign credit rating last week.
Dampening the enthusiasm for equities, U.S. data indicated that manufacturing activity in the Chicago area slowed significantly more-than-expected in April, while a separate report showed that consumer spending slowed last month.
The Chicago purchasing managers' index fell by 6.0 points to a seasonally adjusted 56.2 in April from a reading of 62.2 in March. That was the lowest reading since November 2009. Analysts had expected the index to decline by 1.2 points to 61.0 in April.
This reading was lower than the most pessimistic forecast although readings above 50 indicate economic growth.
The Bureau of Economic Analysis said consumer spending rose by 0.3% in March, slowing from 0.9% the previous month, while incomes rose a better-than-expected 0.4%.
The disappointing data fuelled speculation over the potential of additional monetary easing, after governmental data Friday indicated the U.S. economy grew at a slower than expected rate in the first quarter.
AB InBev, the world's largest brewer, gave back 1.2% after missing analyst's first quarter revenue forecasts.
Aquarius Platinum plunged 10% upon reporting a 7% decline in attributable output for the third quarter.
Aberdeen Asset Management climbed 3.5% on a 14% increase in adjusted earnings.
U.S. stocks are following lower midsession with the Dow off by 0.27%, the S&P 500 down 0.50% and the Nasdaq giving back 0.64%.
On Tuesday, traders are awaiting the New Zealand unemployment rate, the U.S. ISM numbers, and the Australian interest rate decision.