Investing.com - European stocks closed mostly lower Thursday, as markets awaited the FOMC announcement after the close.
At the close of European trade, the EURO STOXX 50 dropped 0.84%, France's CAC 40 declined 1.18%, while Germany's DAX 30 retreated 0.45%.
Markets were eyeing the outcome of the Fed's policy meeting later Thursday, amid growing speculation that the U.S. central bank may implement a third round of quantitative easing to bolster growth.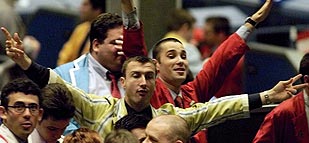 After the close of European trade, the FOMC announced additional stimulus in the form of mortgage buying programs designed to assist the U.S. real estate market.
Sentiment remained mildly supported after Germany's constitutional court approved the country's participation in the euro zone's bailout fund, the European Stability Mechanism.
The ruling cleared the way for Germany's president to ratify the ESM under certain conditions, allowing the European Central Bank's bond purchasing program to proceed.
Financial stocks were broadly lower, as shares in French lenders Societe Generale and BNP Paribas tumbled 1.98% and 1.16%, while Germany's Deutsche Bank and Commerzbank declined 1.27% and 1.47% respectively.
Meanwhile, peripheral lenders extended earlier losses, with Spanish banks Banco Santander and BBVA plummeting 2.30% and 2.11%, while Italy's Unicredit and Intesa Sanpaolo dropped 1.63% and 1.10%.
Elsewhere, France-based EADS plunged 8.59% after the company said on Wednesday that it has entered talks for a tie-up with the U.K.'s BAE Systems to build an equal to Boeing that would balance civil and defense operations.
Shares in BAE climbed 5.43%, erasing initial losses posted after the announcement.
In London, commodity-heavy FTSE 100 climbed 0.65%, despite sharp losses in mining stocks.
Mining giants Rio Tinto and BHP Billiton saw shares slump 1.66% and 0.13%, while rival group Vedanta Resources plummeted 2.74%.
Copper producers also added to losses, with shares in Xstrata and Kazakhmys retreating 0.76% and 1.33% respectively.
Meanwhile, U.K. lenders remained broadly lower. Shares in Lloyds Banking dropped 0.93% and HSBC Holdings declined 0.86%, while the Royal Bank of Scotland fell 0.62%. Barclays outperformed its counterparts on the other hand, with shares adding 0.21%.
Elsewhere, Next dove 5.76% after the U.K.'s second-largest clothing retailer said sales in August and early September were "disappointing," paring growth for the year to date.
On the upside, WPP, the world's biggest advertising agency, rose 0.60% after the stock was raised to hold from underperform at Jefferies.
In the U.S., equity markets spiked higher on the FOMC announcement with the Dow up 0.69%, the S&P 500 higher by 0.76% and the Nasdaq surging 0.90%
In addition Thursday, Italy saw borrowing costs drop sharply at an auction of three- and five-year government bonds, as Italian government financing costs continue to move lower since ECB President Mario Draghi announced the bank's new government bond buying plan.
Investors are awaiting retail sales and the CPI from the U.S. on Friday.