Investing.com - Asian equities are following their U.S. counterparts higher Friday and look poised for their fourth straight weekly advance as traders bid riskier assets higher.
In Asian trading Friday, Japan's Nikkei 225 rose after Japan's lower house of parliament approved the nomination of Haruhiko Kuroda as the next governor of the Bank of Japan. Kuroda, the former head of the Asian Development Bank, has been a vocal critic of the outgoing BoJ regime, saying the central bank has not done enough to spur inflation and weaken the yen.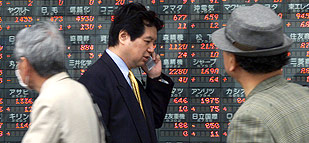 Hong Kong's Hang Seng rose 0.63% while the Shanghai Composite added 0.24%, but Chinese real estate stocks continued to weaken on fear the government there will enact stricter measures to curb an overheating housing market.
Australia's S&P/ASX 200 advanced 1.1% despite some controversy over the country's stellar jobs report, which was released Thursday. Assistant Governor Chris Kent said there may have been a statistical error in the jobs numbers issue by the government.
On Thursday, the
AUD/USD
jumped to a five-week high after official data showed that the Australian economy added 71,500 jobs in February, exceeding expectations for a 9,000 rise, after an increase of 13,000 jobs the previous month.
The report also showed that the unemployment rate in Australia remained unchanged at 5.4% last month, compared to expectations for a rise to 5.5%.
New Zealand's NZSE 50 rose 0.15% following some surprisingly dovish comments from the Reserve Bank of New Zealand on Thursday.
South Korea's Kospi fell 0.55%. On Thursday in the U.S., at least one media report surfaced that said South Korean stocks could face some near-term headwinds as fund manager Vanguard sells South Korean shares as the firm transitions to a new emerging markets index for a popular ETF that does not consider the country to be a developing market.
Singapore's Straits Times Index added 0.47% while S&P 500 futures are higher by 0.04%.