Investing.com - Asian stocks traded mostly higher during Thursday's session, buoyed by some strong employment reports in the region, which helped traders overlook China's consumer price inflation data.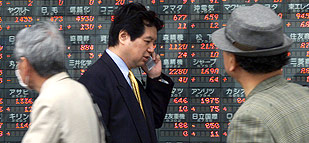 In Asian trading Thursday, Japan's Nikkei 225 rose 0.74% as Japanese stocks continued their push to five-year highs. Mitsubishi Corp. and Mitsui & Co. both gained more than 1% after saying their profits were helped by a weaker yen, echoing comments made by Toyota on Wednesday.
Hong Kong's Hang Seng inched down 0.22% while the Shanghai Composite fell 0.44% after China's National Bureau of Statistics said the country's consumer prices rose 2.4% in April while producer prices declined 2.6%.
Australia's S&P/ASX 200 Index was steady even after a stellar employment report. The Australian Statistics Bureau said the economy there added 50,100 new jobs last month, nearly five times the consensus estimate that called for the addition of 11,000 jobs. The March number was revised lower to 31,000.
Australia' unemployment rate fell to 5.5%, also beating economists' expectations for a reading of 5.6%. Full-time jobs rose by 34,500 while part-time jobs increased by 15,600. Participation in the labor force rose to 65.3% from 65.2%.
New Zealand's NZSE 50 inched lower by 0.04% despite Statistics New Zealand saying in a report that the country's employment rate rose 1.7% in the first quarter, easily topping analysts' expectations calling for a 0.8%. New Zealand's unemployment rate is now 6.2%, well below the 6.8% economists expected.
South Korea's Kospi jumped 0.87% after the Bank of Korea cut interest rates by 25 basis points to 2.5%. Bank of Korea is the fourth global central bank to lower rates in the past two weeks.
Singapore's Straits Times Index added 0.53% while S&P 500 futures inched up 0.06%. The benchmark U.S. index rose 0.41% on Wednesday.