Investing.com - Most Asian stocks traded higher Tuesday following another dismal day for their U.S. counterparts Monday, but concerns about China's economy loomed large.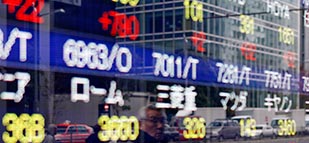 In Asian trading Tuesday, Japan's Nikkei 225 rose 0.94% while the Topix was higher by nearly 1% after the Bank Of Japan said that Japan's corporate services price index rose by a seasonally-adjusted 0.3% last month following a -0.3% reading in April. Analysts had expected Japan's CSPI to rise to 0.1% last month. The April reading was revised up from -0.4%
USD/JPY
traded higher aided by comments made by BoJ Deputy Governor Kikuo Iwata who said the central bank can still deploy easing measures if it has to. Those comments were made Monday.
Hong Kong's Hang Seng rose 0.73% while the Shanghai Composite dropped 0.59%. On Monday, Moody's Investors Service revised its outlook on Hong Kong's banking sector to negative from stable.
"The change in the banking system outlook reflects the agency's concerns regarding persistent negative real interest rates and potential property bubbles in Hong Kong, as well as Hong Kong banks' growing exposures to Mainland China. These factors could result in adverse operating conditions for Hong Kong banks over the outlook horizon," said Moody's in a statement.
Australia's S&P/ASX 200 Index added 0.4%, reversing an earlier 0.3% loss, but mining and materials names, including BHP Billiton, were weak.
New Zealand's NZSE 50 shed 0.53%. South Korea's Kospi added 0.38% after the Bank Of Kore said that South Korean consumer confidence rose to 105 in May from 104 in April. Analysts had expected South Korean consumer confidence to rise to 105 in May. South Korea's economy is Asia's fourth-largest.
Singapore's Straits Times advanced 0.67% while S&P 500 futures rose 0.30% a day after the benchmark U.S. index slid 1.21%.