Investing.com - Asian stocks were trading largely higher on Monday on hopes consumers will spend more this holiday season in the U.S., a key export market.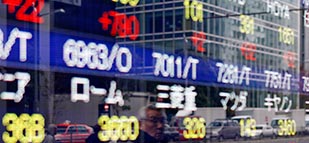 During Asian trading on Monday, Hong Kong's Hang Seng Index was down 0.02%, Australia's S&P/ASX200 was up 0.23%, while Japan's Nikkei 225 Index was up 0.77%.
Hopes that U.S. consumers will make more purchases this holiday season rose on the so-called Black Friday, the Friday after Thanksgiving when U.S. consumers traditionally kick off their holiday shopping.
Many retailers opened on Thanksgiving Day to get a jump on the competition, which fueled a rally in the U.S. bourses Friday that extended into Asian trading on Monday.
Many investors, however, remained on edge over uncertainty surrounding Greece.
The International Monetary Fund, E.U. finance ministers and officials from the European Central Bank are due to meet on Monday to discuss freeing up pending aid for Greece.
Sticking points surrounding Greece's longer-term debt reduction strategies have held up aid payments to Athens in previous meetings.
European governments have expressed support for giving Greece a two-year extension to cut the country's debt burdens to 120% of GDP by 2022, a proposal at which the IMF has balked.
The IMF has opposed the two-year extension and says policymakers should stick with the plan for Greece to bring debt burdens down to 120% by 2020 — and not 2022 — but has said European countries should take a hit on Greek loans, which has run into opposition in Europe.
Stock market participants were hoping early Monday that all sides will strike a deal and free up aid earmarked for Athens, though until such an announcement becomes public, safe-haven currencies such as the dollar and the yen served as safe harbors of choice to ride out uncertainty, which tempered gains in Asian equities markets.
In Hong Kong, top decliners included Cathay Pacific Air, down 1.80%, China Petroleum & Chemical, down 1.31%, and China Unicom, down 0.97%.
In Australia, top gainers included Energy World Corporation, up 11.86%, APN News & Media, up 7.14%, and PanAust, up 4.39%.
European stock futures indicated a lower opening.
France's CAC 40 futures pointed to a loss of 0.25%, while Germany's DAX 30 futures pointed to a loss of 0.21%. Meanwhile in the U.K., FTSE 100 futures were down 0.19%.
Dow Jones Industrial Average futures were down 0.25%, while the S&P 500 futures were down 0.31%.