Investing.com - Asian stocks fell on Monday on the heels of Friday's dismal U.S. May jobs report, which showed the world's largest economy added a scant 69,000 net nonfarm payrolls, far less than expected and sparking global growth concerns.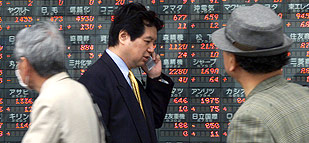 During Asian trading on Monday, Hong Kong's Hang Seng Index was down 2.23%, Australia's S&P/ASX200 was down 1.84%, while Japan's Nikkei 225 Index was down 2.05%.
In the U.S. on Friday, the U.S. Bureau of Labor Statistics reported the economy added only 69,000 jobs, far less than expectations for a gain of 150,000.
The numbers sparked concerns the global economy may be experiencing a more significant slowdown than a soft patch.
Weaker-than-expected manufacturing and service-sector data out of China pushed Asian stocks down as well.
Meanwhile in Europe, Germany reportedly continued to balk at the idea of eurozone countries issuing one bond to shore up debt-ridden countries like Greece.
Greece, meanwhile, is set to hold elections on June 17 and polls haven't indicated a frontrunner political party, which further fueled safe-haven dollar demand.
In Hong Kong, top decliners included China Unicom, down 4.98%, HKEx, down 4.36%, and China Life, down 4.24%.
In Australia, top decliners included art Energy, down 12.20%, Aquarius Platinum, down 10.58%, and Karoon Gas Australia, down 9.14%.
European stock futures indicated a lower opening.
France's CAC 40 futures pointed to a loss of 1.27%, while Germany's DAX 30 futures also signaled a loss of 1.00%. Meanwhile, in the U.K., the FTSE 100 futures indicated a loss of 0.89%.
Dow Jones Industrial Average futures were down 0.78% while the S&P 500 futures were down 0.73%.
Later Monday, the U.S. is to produce official data on factory orders, a leading indicator of production.