Investing.com - Asian stock markets were mixed at market close on Friday, although Thursday's upbeat manufacturing data from China continued to support investor confidence.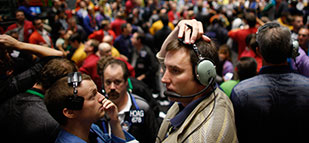 During late Asian trade, Hong Kong's Hang Seng Index climbed 0.73%, Australia's ASX/200 Index dipped 0.07%, while Japan's Nikkei 225 Index remained closed for a national holiday.
Market sentiment improved after a report showed that China's preliminary HSBC manufacturing PMI rose to 50.4 in November, up from a final reading of 49.5 in October. The data eased concerns over a slowdown in the world's largest economy.
Investor confidence also strengthened after German Chancellor Angela Merkel said an agreement to unlock a delayed bailout installment for Greece was still possible when euro zone finance ministers resume talks on Monday.
Talks between finance ministers and the International Monetary Fund ended without a deal on Tuesday, amid disagreements on how best to reduce the country's debt to sustainable levels.
Shares in Hong Kong trended sharply higher, boosted by strong gains in insurance companies.
China Life Insurance jumped 1.33%, while Ping An advanced 0.94%.
Energy stocks also added to gains, as shares in China Shenua surged 1.67% and Sino Land rallied 1.03%, while China Resources climbed 2.66.
On the downside, Jiugui Liquor dove 10% after being accused of having potentially toxic substances in its products. Shares in the company had been suspended since Monday.
Elsewhere, Australian shares slipped lower, as financial stocks were in focus after chief executive of ANZ said banks will need a small capital increase to meet Basel III global banking regulations.
Australia and New Zealand Banking dropped 0.59% and National Australia Bank dipped 0.04%, while Commonwealth Bank Australia and Westpac Banking advanced 0.48% and 0.44% respectively.
Mining giants Rio Tinto and BHP Billiton were on the upside, with shares both rising 0.18%, while mining services company Ausdrill plunged 14.63% after saying its full year revenue was expected to decline by USD50 million.
Looking ahead, European stock futures pointed to a mixed to higher open, as attempts to reach a new bailout deal for Greece were set to continue.
The EURO STOXX 50 futures pointed to a 0.22% rise, France's CAC 40 futures added 0.16%, London's FTSE 100 futures slipped 0.08%, while Germany's DAX futures pointed to a 0.09% gain.
Later in the day, Germany was to release a report on business climate, while European Union leaders were to hold a second day of talks in Brussels to discuss Spain and Greece and plans for greater integration of fiscal and monetary policy in the region.
Trade volumes were expected to remain light on Friday, with U.S. markets closing early for Thanksgiving weekend.