Investing.com - Asian stock markets were mixed to higher during late Asian trade on Monday, as hopes that a deal on an aid payment for Greece is close supported appetite for riskier assets.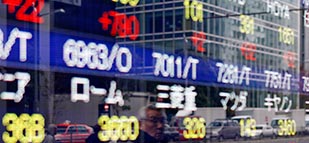 Sentiment also improved on hopes consumers will spend more this holiday season in the U.S., a key export market.
During late Asian trade, Hong Kong's Hang Seng Index dipped 0.3%, Australia's ASX/200 Index settled 0.25% higher, while Japan's Nikkei 225 Index added 0.2%.
The International Monetary Fund, E.U. finance ministers and officials from the European Central Bank are due to meet on Monday to discuss freeing up pending aid for Greece.
German Chancellor Angela Merkel said she believes a deal can be reached at Monday's talks, while the French finance minister said over the weekend that an agreement is close.
In Tokyo, the Nikkei rallied to a seven-month intraday high, boosted by ongoing weakness in the yen, which traded close to an eight-month low against the U.S. dollar and a seven-month low against the euro.
A weaker yen increases the value of overseas income at Japanese companies when repatriated, boosting the outlook for export earnings.
The yen has been weighed by speculation the country's main opposition leader, Shinzo Abe will win the upcoming general election on December 16. Abe recently said he wanted the Bank of Japan adopt interest rates of zero or below zero to enhance lending.
Shares in automakers Nissan and Toyota rose 2.3% and 1.7% respectively, while Pioneer Corp. surged 4.1%.
Troubled chip maker Renesas Electronics rallied 16.6% after the Nikkei newspaper reported a government-backed fund will buy two-thirds of the firm.
In Hong Kong, the Hang Seng edged lower, weighed down by losses in mainland China.
Airliner Cathay Pacific lost 1% after warning late Friday that premium traffic suffered compared to the previous year amid challenging global economic conditions.
Elsewhere, shares in Australia advanced in quiet trade.
The nation's big four banks were mixed, with Australia's number 1 lender, Commonwealth Bank of Australia adding 0.3%, while Westpac Banking Group shed 0.7%.
Looking ahead, European stock market futures pointed to a modestly lower open. The EURO STOXX 50 futures pointed to a loss of 0.15% at the open, France's CAC 40 futures dipped 0.2%, London's FTSE 100 futures eased down 0.1%, while Germany's DAX futures pointed to a decline of 0.15%.
Later in the day, Germany was to release data on German consumer climate.