Investing.com - Asian stock markets were higher during late Asian trade on Thursday, with shares in Tokyo surging to the highest level since March 2011 on the back of a weakening yen, which fell to a more than two-year low against the U.S. dollar.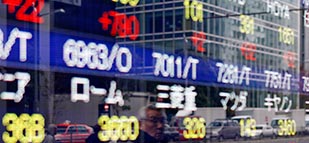 Bourses in Hong Kong and Australia edged higher in thin trade after returning from a two-day Christmas holiday break.
During late Asian trade, Hong Kong's Hang Seng Index added 0.4%, Australia's ASX/200 Index settled 0.3% higher, while Japan's Nikkei 225 Index ended up 0.9%.
Japan's Nikkei 225 Index closed at a 21-month high, amid expectations for more aggressive monetary stimulus from the Bank of Japan following the approval of Shinzo Abe as the country's prime minister.
Abe has recently called for unlimited easing by the BoJ in order to weaken the local currency and spur growth in the recession-hit economy.
Exporters advanced on the back of a weakening yen, which traded at the weakest level since September 2010 against the U.S. dollar and a 16-month trough against the euro.
Automakers Honda and Nissan added 1.6% and 2% respectively, while consumer electronics maker Panasonic tacked on 1.4%.
The Nikkei has rallied nearly 19% in the past six weeks, with exporters amongst the most notable gainers, as ongoing weakness in the yen boosted the outlook for export earnings.
Meanwhile, shares in Hong Kong eased up to trade near a 17-month high, as the markets reopened for the first time since Monday.
Meanwhile, market players remained focused on developments surrounding the fiscal cliff in the U.S., approximately USD600 billion in automatic tax hikes and spending cuts due to come into effect on January 1.
Without a deal, the U.S. could fall back into recession and drag much of the world down with it.
Elsewhere, in Australia, the benchmark ASX/200 Index edged higher following a two-day break from trade.
Retailers advanced after Boxing Day sales. Department store operator Myer Holdings climbed 2.9%, while David Jones and Harvey Norman rose 3% and 1.6% respectively.
Looking ahead, European stock market futures were mixed. European markets were closed for the Boxing Day holiday on Wednesday and will play catch up with other markets on Thursday.
The EURO STOXX 50 futures pointed to a loss of 0.3% at the open, France's CAC 40 futures added 0.3%, while Germany's DAX futures pointed to a flat open.
Later Thursday, the U.S. was to publish its weekly government report on initial jobless claims, as well as data on new home sales and consumer confidence.